Boxes filled with papers full of statistics. A4's full of printed percentages with possession, successful dribbles, intercepted balls, successful passes, failed passes, tackles, lost balls, shots and saves. The examples are endless. Many clubs in professional football still use paper sheets full of figures about players, matches and training sessions. TeamTV wants to make it easier for clubs to keep track of the development of players. With their video analysis platform, clubs can link statistics to video and trainers can mark basic qualities in digital player files. "At some clubs, it is a mess", says Emiel van Lieshout of TeamTV. " Unbelievable that they still use so much paper. How cool would it be to have the video with all that data?
The company is currently in the middle of a pilot at Go Ahead Eagles, where they are working with Football Vision, the company of Nangila van Eijk, former professional of Heerenveen, on a player development system and testing with a system that gives information to trainers during the match. "A lot of things happen in a game, so trainers do not always have a good view of what is needed to make the game better. At Go Ahead Eagles we link live statistics to match situations, so the staff can immediately use the data and change something in the field", explains Van Lieshout.
During the game against Roda JC (Dutch football club) the video analyst of the Limburg opponent watched the colleagues from Deventer for a while, according to Van Lieshout he was impressed by how simple TeamTV works and Paul Bosvelt, technical manager of the 'Eagles' is enthusiastic about the tactical possibilities and keeping up with the player development on the platform.
How does it work?
It works as follows: Van Lieshout grabs his laptop and shows a checklist. "Here you have different paths of development (ontwikkellijnen), for example shooting or switching from attack to defence. Such a development line contains skills and their implementation in-game context. If the trainer thinks you have met all the requirements, he checks this off in the system. These checkboxes are supported by video images from matches or practice sessions, so TeamTV builds a file of each player, where trainers and players can click on further. Van Lieshout shakes his head: "Now this is still done in Excel sheets or Word files, we make it much more structured. You not only have video images of qualities that someone already possesses but also of something that a player does not master yet. Then the trainer and player can look at the video together and make a plan to improve it. Or a player can log in at home and quietly watch actions and read what a trainer has added to the video for advice. This way you make explicit where players can still develop themselves."
The technical part of the football comes from former Dutch national team player Nangila van Eijk. Van Lieshout: "As a former professional, she has a clear view of the game and our team has – through various coaching diplomas in korfball – didactic experience. Together we started to work out the details. Thanks to Nangila's network, we were able to pitch at various professional clubs, the football world is quite authoritarian and you don't just enter somewhere."
Football vs korfball
Van Lieshout comes from the korfball world, he dares to say that there they are much more open to the use of statistics and trying out new techniques. For example, korfball has been using live streaming in more classes than just the first division for a long time now. "That's a must because it's a relatively small sport and there is a lot less money involved than with football", he says, somewhat soothing.
"In many sports, they had been using a mental coach or sports psychologist for years before professional football also saw the benefits of it."
Yet football remains conservative. Laptop trainers, that's how football trainers who haven't played at the 'highest level' are called by their 'old-fashioned' colleagues. Laptop trainers use data and statistics to support their policy. Many trainers who used to be professionals in the past consider this as 'nonsense' and 'meaningless'. This is to illustrate how old-fashioned football is. Van Lieshout: "In many sports, the use of a mental coach or sports psychologist had been normal for years before professional football understood its advantages. And look at all the discussions around the VAR every week. Everyone thinks something of it. On the one hand logical because there is a lot of money involved."
Van Lieshout believes a lot of this money is thrown away: "At Go Ahead Eagles they paid a fortune for expensive data packages, they received reports for which you need a lot of specialised knowledge to really do something with it. Not every club has that knowledge. The reports disappear into a drawer nothing happens with it anymore. That's a waste, isn't it? We believe that video analysis doesn't have to be expensive and overly complicated at all."
Underpin tactic with statistics and video
Changing something in the football world is difficult and the likelihood of success depends largely on the people you know. But Van Lieshout sees this changing. "Just look at Go Ahead Eagles. They want to level with the top and make it back to the Eredivisie, they want to use modern techniques. Also, other clubs we visited were enthusiastic about what we are developing now. I like to see that trainers can support their decisions with statistics and video."
"Follow-up training, as it is now, is very old-fashioned. But it is essential that trainers continue to develop themselves. Our goal is to build a complete training suite where trainers can learn how to make players better."
In 2017, the KNVB (Dutch Football Association) therefore adapted the trainer course. It is no longer decisive at what level someone has played football, but it is about the curiosity of course participants. The football association selects future trainers on their ability to learn. Because of football changes continuously; tactics, nutrition and physiology. Here Van Lieshout sees a role for TeamTV. "This is the real problem, more and more sports have difficulty finding and developing good trainers. Also at NOCNSF, they are looking for a solution. Follow-up training as it goes now is old-fashioned. But it is essential that trainers continue to develop themselves. Our goal is to build a complete training suite where trainers learn how to make players better. Not only in the field of sports technology but also mentally, for example. There is no such thing yet."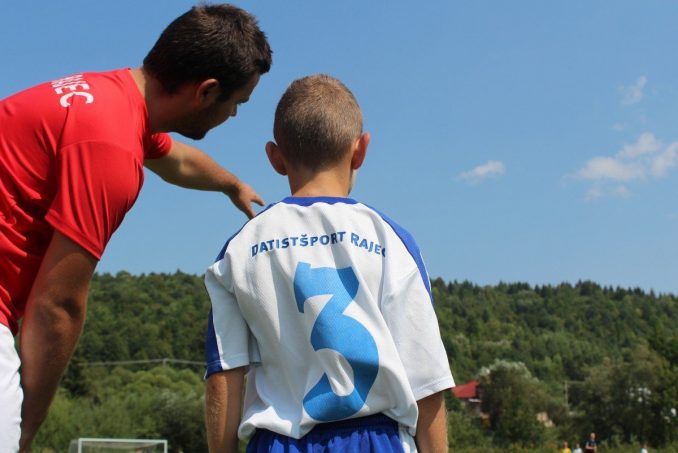 Not only professional sports
Ultimately, the idea is that TeamTV's products trickle down to recreational sports. At amateur associations parents regularly come to trainers and club management after selection training to get an explanation why their son or daughter has not been selected for the first team. Van Lieshout: "Then it is fantastic that trainers can substantiate their choice with images, isn't it?" Whether it's korfball, hockey, football or tennis, Van Lieshout thinks that every sports club benefits from video analysis. "Cameras are becoming cheaper, even with mobile phones you can film training sessions. So it doesn't have to be terribly expensive. It's about trainers that can explain their ideas to players much better with the use of video. And of course, it's unrealistic to think that every amateur club will use this. It takes a lot of time and is not free, but for the first teams in higher classes video analysis is a useful investment."
Future
Van Lieshout still has plenty of ideas which they would like to develop at TeamTV. Live streaming with an overlay of statistics, an algorithm that counts automatically how many successful passes someone gives or gamification to motivate players individually. "We want a lot more than we can make now. Our goal is to grow a lot in the next two years to be able to expand and make cool new things. We also look at entertainment, such as live streaming with statistics. Or that friends can share individual actions with each other. For this, we are in discussion with developers of camera systems and streaming services. That will be fun, although it is still in its infancy, we are conceptually further ahead than our competitors."
Main photo: TeamTV tests the pass folder during the home game in the Adelaarshorst against Almere City. ©TeamTV
Support us!
Innovation Origins is an independent news platform that has an unconventional revenue model. We are sponsored by companies that support our mission: to spread the story of innovation. Read more.
At Innovation Origins, you can always read our articles for free. We want to keep it that way. Have you enjoyed our articles so much that you want support our mission? Then use the button below: