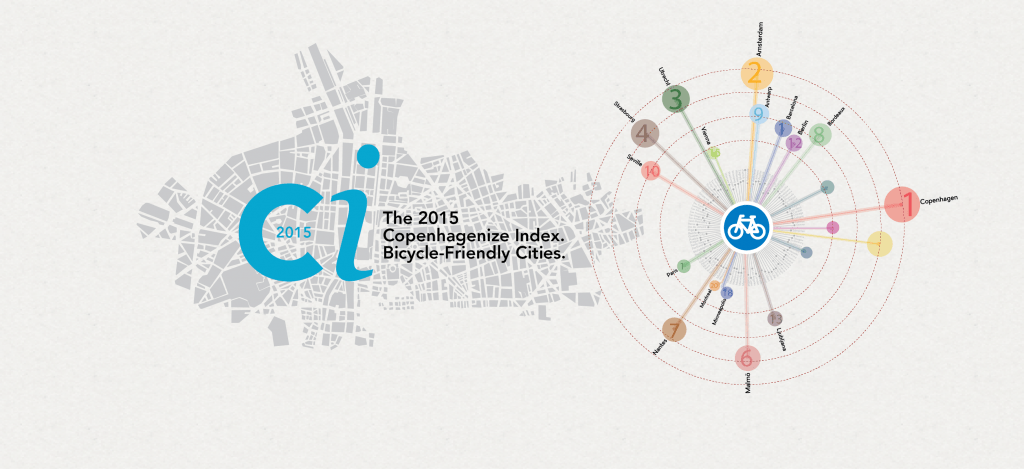 Heel lovend is de jury niet, maar de cijfers kunnen niet liegen: Eindhoven is dit jaar gestegen naar de vijfde plek van fietsvriendelijke steden. Wereldwijd! "Eindhoven rolls upwards in this version of the Index but really only because of a lack of innovation by the cities around it in the ranking, rather than its own efforts."

Anyway, vijfde van de wereld, dat pakt niemand ons meer af. Bizar toeval wel: op de dag dat de stad aankondigt de niet functionerende 480 electronische fietsbakken te verwijderen blijkt dat ons fietsbeleid beter is dan dat van pakweg Parijs, Barcelona, Berlijn en Montreal. En ach, dat Kopenhagen (1), Amsterdam (2), Utrecht (3) en Straatsburg (4) ons dit jaar nog voor zijn, dat is slechts een aansporing voor de komende jaren.
De index wordt eens per twee jaar samengesteld door Copenhagenize Design Co en Wired. Dit keer werden 122 stedelijke regio's van 600.000 inwoners en meer (in ons geval: Brainport met ruim 700.000 inwoners) beoordeeld. De jury benadrukt dat de lijst zorgvuldig moet worden bepaald en mede daardoor een tijdrovende klus is. De score is het resultaat van een beoordeling op 13 categorieën.
De jury lijkt nog altijd behoorlijk onder de indruk van de Hovenring, maar constateert ook dat er hier verder weinig te halen valt voor de fietser. Het is dat onze concurrentie minstens zo stil zat, want anders was er zeker een minder hoge notering uitgerold.
De somberende jury: "If the city could pull the Floating Roundabout (de Hovenring, BB) out of its sleeve, there should be no limit to what else they can achieve. Generally, it's hard to get excited about a city that advanced up the Index without achieving anything."
Steun ons!
Innovation Origins is een onafhankelijk nieuwsplatform, dat een onconventioneel verdienmodel heeft. Wij worden gesponsord door bedrijven die onze missie steunen: het verhaal van innovatie verspreiden. Lees hier meer.
Op Innovation Origins kan je altijd gratis artikelen lezen. Dat willen we ook zo houden. Heb je nou zo erg genoten van de artikelen dat je ons een bedankje wil geven? Gebruik dan de donatie-knop hieronder: