Team CASA-leden Pau Brossa, Martina Marinova, Antoine Post en Thomas van der Werff (vlnr) © Rien Boonstoppel
It still takes some getting used to. Living in your own experiment, says Antoine Post. As a physics student at Eindhoven University of Technology (TU/e) in The Netherlands, he came to the conclusion six years ago that the process of making social housing more sustainable had to be accelerated. "You did see a solar panel here and there and a heat pump, but that was about it. Never mind that it was actually integrated." Post wanted to achieve what companies have failed to do.
Along with six fellow students, he founded Team CASA back in 2016. Six years later, during a tour on one of the rare sunny days in February, Post proudly shows off his achievement: a "Comfortable, Affordable, Sustainable Alternative" house, CASA 1.0. He and his girlfriend have been living there since October last year.
Showroom
Their house is on the first floor of a three-apartment complex, on the Markestrijp, in the Brainport Smart District next to Helmond Brandevoort. Post's apartment is sixty square meters and the other two are thirty square meters.
His place is compact and light. Large windows give a view over the meadow where the complex is situated. An outside staircase leads to the other two apartments. These are not yet occupied. Post expects to welcome a new resident in apartment 50B this summer. Apartment 50A will remain vacant for the time being.
That is a showroom. "A lot of people want to come and see it." Post rents his apartment from housing cooperative Woonbedrijf, one of Team CASA's main partners. "By having that showroom, I don't have to show off my bedroom every time."
Read more about the origins of Team CASA here.
Innovations
During the six years of the development and construction, a lot of partners signed up with Team CASA. So did the general contractor Hurks, who ultimately built the building. During the process at the highest point in April last year, project coordinator Paul Claes of Hurks, told us that the students came up with lists of suppliers and subcontractors who they wanted to build with. "As a contractor, we don't often get to experience that. Usually a client comes to us with the question: 'Would you be interested in building this house or building for us?' Then we prepare a quote for that and after that, we approach the market. But in this case, it was the other way around."
As a first-year physics student, Post was amazed at the amount of innovations out there aimed at making homes more sustainable. "You quickly come across those just by walking through Flux," he says. Flux houses the faculty of Electrical Engineering and most of the faculty of Applied Physics. "But those kinds of innovations don't usually reach the average residential building."
During test projects, Post saw that it was possible to work with a heat pump or a solar panel. "But not the combination of everything together. That was the crux of the matter for us: to be able to integrate everything. Post and six other students started a project through the Honors Academy program, for students who want to do something extra during their bachelor's program, "to design a house from scratch using sustainable techniques."
Brain
The project morphed into a student team. A design emerged to run one system for an entire apartment complex. "If you equip each apartment with an entire system, it soon becomes quite expensive. Nor is it really efficient."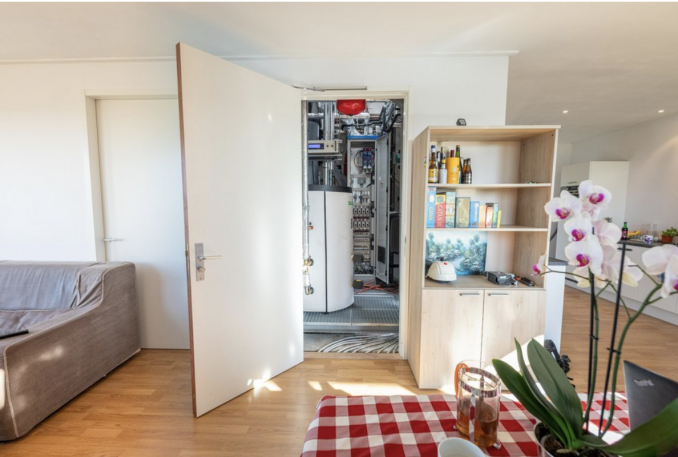 At the core of the apartment complex is the brain of the facility, a "control cabinet, with all the technology." "In fact, just a kind of computer with lots of usb cables." Solar panels on the roof generate power and heat. "You generate a lot of power in the summer. That's precisely when we also want to turn on the heat pump, not during the winter."
That offers two advantages, according to Post. " You can use the heat pump to cool things down. The heat pump extracts that heat from the floors of apartments or from the roof. Then the pump stores that heat in a large water tank." Under the greenhouse- because Post also grows his own food – is a water reservoir in which all the heat is heated to about 75 degrees. " We can use that to heat ourselves in the winter. The only thing you have to turn on then is a kind of aquarium pump. That's the only power you need to heat the house at that particular moment. After all, the heat is already stored in the summer."
What makes it so complex is figuring out how to properly control the whole system, Post says. "That's done through that brain. On top of that, there is also a direct current grid. This is because the solar panels also generate direct current. Normally that is converted to alternating current. The disadvantage of alternating current is that it is difficult to find the right balance between turning on the heat pump and knowing whether there is still enough power. It can be done, but it requires a lot of measuring equipment to see exactly where power is being generated and consumed. With direct current, you don't have to do that. Put simply, the higher the voltage of your direct current grid, the more energy is available on a local scale."
Unreal
A display shows how much power is coming in. If there is an excess of power being fed in, the system knows that the heat pump must be switched on then. If there is a shortage of heat and the pump needs to be turned on, there is a backup battery that provides additional power. "That way, you don't have to use power from the grid," he explains.
Facilitating that communication between systems is an important part of local energy use, Post said. "Storage is important, but if you're going to charge it up when there's no sun, you're still using the grid."
This whole system was conceived after two years of research and design time spent behind the computer. Transforming it into a real apartment complex takes a lot of fine-tuning, Post discovered. "And we thought that after the design work was done, the hardest part was done. Then it really got off ground. But integration with the architectural part has been the most work."
Now that it's all working, it's still somewhat unreal for Post at times. "Often when you study engineering you work on something that you never get beyond the confines of the lab. This is on a different scale. I live there day and night. I can't just say: 'I'm going to go home and shut it down for a while.'"
Pizza oven
Over time, the core of the building should be an enclosed space that residents cannot and do not need to access. Now it is convenient that Post can access everything. If something goes wrong, then technicians can call him to see what's going on. There is also a battery in his hallway. That battery can provide about six hours of power to the entire building. "That's handy now, but if another resident ever comes, then we will find another place to put it."
Post can talk for hours about what makes the complex so special. For example, the exterior facade is made of bamboo that has been pressed together into hardwood under high pressure, without the use of glue. "The beauty of it is that it is completely maintenance free and it is fire-proof," he adds. There are also flowerbeds with wildflowers. Garden furniture has also been made from the pallets that were broken, and a kitchen unit that was wrecked serves as a workbench in the garden.
In the garden is another one of Post's projects: the construction of a pizza oven: "That's taking a little more time than I thought," he says. Post is making that oven from the sand that was dug out for the water tank. "I asked to make a separate pile with the sand that was deeply buried in the ground and some of the normal surface soil. That already contained some clay. I added a bit more and lo and behold – a small pizza oven."
Post emphasizes that the success of the project is also due to the help provided by the Eindhoven University of Technology (TU/e) and Woonbedrijf. That is what he is particularly proud of. "It was not only us, but also the TU/e and Woonbedrijf who did their utmost to create a building that could be lived in. We started this project together so that it could actually be lived in. How else do you know whether it will work? The fact that the TU/e and Woonbedrijf also decided to support it, is very special to me." 
Post and former student Pau Brossa Rodriguez have founded a start-up: Integer Technologies. In order to scale up and commercialize the concept together with the construction company Hurks and to optimize a next version (CASA 2.0).
Collaboration
This story is the result of a collaboration between
TU Eindhoven
and our editorial team. Innovation Origins is an independent journalism platform that carefully chooses its partners and only cooperates with companies and institutions that share our mission: spreading the story of innovation. This way we can offer our readers valuable stories that are created according to journalistic guidelines. Want to know more about how Innovation Origins works with other companies? Click
here