© Titusurya / FreePik / Lightyear
Last week, the Netherlands' youngest automotive company, Lightyear, reached a major milestone by driving 710 kilometers on one battery charge with the prototype of the Lightyear One. There are more electric cars that have achieved that, but not with a battery of only 60 kWh and an average speed of 85 kilometers per hour.
The Lightyear One is equipped with solar panels that help increase the range and, under the right conditions, can even allow the car to run independently of the grid. Two years ago, BMW's top technical executive, Klaus Fröhlich, went heavy on the solar car phenomenon, which he portrayed as an absolutely unfeasible gimmick. He calculated that solar panels on a car could generate a maximum of 1.2 kWh per day, which, according to him, would only take an electric car about five kilometers. With this back-of-the-envelope calculation, however, Fröhlich missed one fundamental point. That's because Lightyear has adopted a completely different philosophy than BMW. Whereas BMW successfully implements its motto Freude am Fahren – sheer driving pleasure – with every design choice, Lightyear has set itself the goal of making driving completely sustainable. They, therefore, put everything, really everything, in the context of maximum efficiency.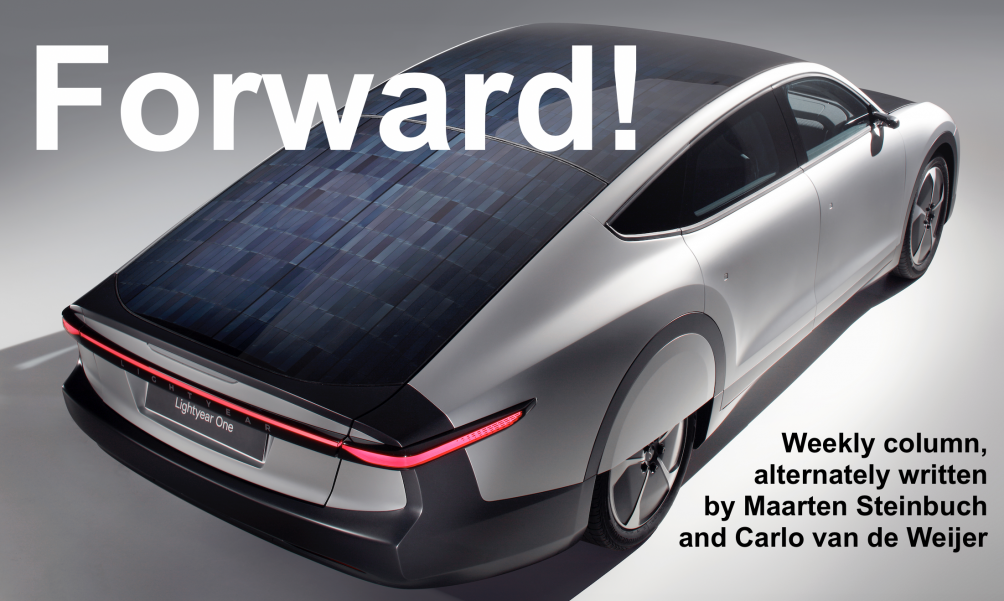 One example is Lightyear's wheel motors. BMW is not likely to go for that because the resulting heavier wheel is not the best solution for sheer driving pleasure on a race track. But because a wheel motor does not need a transmission and also has aerodynamic advantages, Lightyear does opt for these more economical hub motors. And so it goes with every design and component choice. For comfort and driving performance, the company will always strive for the best, but when this comes at the expense of efficiency, it opts for 'good enough'. The same applies to design: pretty enough is pretty enough, as long as it is maximally efficient. The extremely low drag coefficient, cameras instead of mirrors, and the covered rear wheels are all things you often see on prototypes but which disappear in the final design. That won't happen with the Lightyear One. Because hefty mirrors and visible wide wheels may look better, they also cost energy.
As a result of all these design choices, the Lightyear One turned out to have generated not 1.2 but 3.45 kWh of electricity during last week's record-breaking drive. And for a Lightyear that is enough for 30 to 40 kilometers, a lot more than the 5 kilometers of the Bavarian envelope. A Dutch car drives an average of 32 kilometers per day. But that is not even the essence: being able to drive entirely on the sun's energy may have been the ultimate goal, but as a side benefit you have a car that drives 710 kilometers on 60 kWh. Even if you only drive at night and always park inside, you only need to charge once every few weeks and every kilometer you drive will only cost you one and a half cents in energy expenses.
In an interview with NRC earlier this year, former BMW chief designer Chris Bangle told us that he foresees a new generation of car designers abandoning aesthetic traditions. Then, in his words, a car will no longer be a totem of speed, luxury, and stylized aggression, but of beauty, economics, and friendliness. A design as a solution to an intellectual challenge. Exactly as they have done in Helmond right from the beginning: efficiency above everything.
Maarten Steinbuch and Carlo van de Weijer are alternately writing this weekly column, originally published (in Dutch) in FD. Did you like it? There's more to enjoy: a book with a selection of these columns has just been published by 24U and distributed by Lecturis.