Why we write on this topic:

Over the past three months, student Sil Schaars spent time doing an internship in Mozambique. It was through Empowa that she got involved in the construction of a house made of hemp. Hemp could very well be the solution for the fifty million buildings that need (at the very least) to be built in Africa. I interviewed Sil about her time in Beira, the second largest city in Mozambique and I also spoke to Marie-Odile and Greg Schneider of Empowa about their ambition to bypass traditional financial structures in Africa and provide people with access to financing and housing.
In 2019, cyclone Idai destroyed and damaged seventy percent of all buildings in Beira, Mozambique's second largest city. The country is among the poorest ten countries in the world. Most people are deprived of access to finance; only three percent of Mozambicans can buy a home through their local mortgage system.
This is not only the case in Mozambique. According to the World Bank, about eighty percent of people in Africa work in casual jobs. Without an official contract, getting a mortgage is practically impossible, and interest rates are sky-high at around 30 percent. Consequently, many Mozambicans live in vunerable homes that are unable to withstand natural disasters.
'Broken' system
"To illustrate how broken the system is: of the thirty million Mozambicans, only six hundred have a mortgage. I reckon that in my own neighborhood here in the Netherlands, more people have a mortgage than in all of Mozambique," says TU/e alumnus Marie-Odile Zanders. She is head of Partnerships and Development at Empowa, a housing mortgage lender for low- and middle-income Africans. Together with the local government in Beira, the Dutch government-supported land developer SDUBeira and the Mozambican housing developer Casa Real, they now seek to jointly build 25,000 affordable and climate-resilient homes over the next 10 years.
Cement blocks or wattle-and-daub
Mozambicans tend to buy their homes mostly with cash and often build them themselves with cement blocks. These are made by the roadsides. "Many people don't have money to buy all the blocks at once, so every now and then they buy a few. It is quite normal that it takes 10 to 20 years to finish your house," Sil Schaars knows from her own experience with the locals.
She "really wanted something different," says the TU/e student of Innovation Sciences and Building Physics. So, she swapped Eindhoven for Beira over the past three months to help build an affordable hemp house for Empowa. The project is a pilot of Empowa and is co-financed by the SBIR (Small Business Innovation Research) program of the Netherlands Enterprise Agency (RVO).<
"If cement blocks are too expensive for them, people live in a wattle-and-daub type of house," Schaars went on to explain. That is a construction method whereby a woven wooden mold is filled with trash and bricks. This structure is then covered with a layer of clay. The cement blocks as well as the wattle-and-daub method both fail to provide climate-proof homes. While Mozambique, like the rest of Africa, is increasingly feeling the brunt of climate change.
"It is quite normal for it to take 10 to 20 years to finish your house."

Sil Schaars
Two problems
As such, there are two major problems where housing in Mozambique is concerned. One: people do not have access to financing. Two: a great deal of housing must be built that is climate-proof and affordable. And that has to be done in the most climate-neutral way possible, because seventy percent of the buildings that shuld be built in Africa by 2050 have not yet been built. Zanders: "And even now there's already a backlog of fifty million homes in Africa. The buildings that need to be built will have to be built in a more climate-friendly way no matter what, or else Africa will just repeat our mistakes."
"There is a backlog of fifty million homes in Africa."

Marie-Odile Zanders
Hemp instead of concrete
For that last problem, Empowa is now looking into the use of hemp, among other things. The plant can grow up to four meters in height within a hundred days. The stem of the plant is dried, finely ground and mixed with lime. "That is then pressed into the shape of a block in a mold. It is not a load-bearing material like cement blocks are, so the supporting structure still needs to be cement or wood," Schaars explains.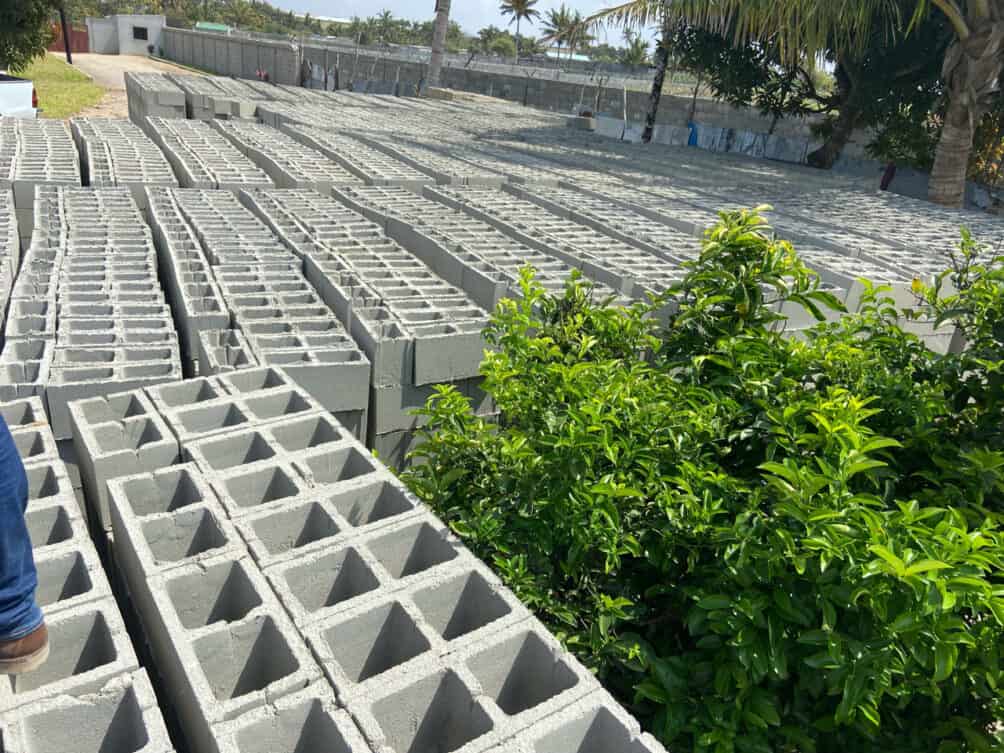 Modular houses
The price for a basic house starts from ten thousand dollars and comprises a kitchen, bathroom and bedroom. The houses are modular; if people have more funds later on, they can add a room or floor.
A major advantage of hemp is that it is moisture-regulating. This is important for indoor comfort, since the humidity in Mozambique is typically around seventy percent. "It should be a better thermal insulator than cement, so it also improves comfort levels for the residents."
When we talk with her, Schaars is not sure yet if the same thing will be true for this house. "Actually, it should have been more or less finished by now, but that hasn't worked out. Everything has been rather chaotic ever since my first day here. The hemp blocks were supposed to come by truck from Cape Town, but the roads are pretty bad here. So the wheels fell off the truck and a new truck had to be sorted out."
Her time in Beira is almost up, but Schaars has already installed all the measuring equipment. She hopes her colleagues will still be able to do the measurements.
Decentralised Finance
Then there is the other problem: financing. Empowa is building a new financial infrastructure with the help of tech tools. They are developing a decentralized finance system – aka: Decentralized Finance (DeFi) – which is based on blockchain technology. The company works with a lease-to-own loan: people take out a loan and pay off their house bit by bit, while being able to move into their new home right away.
Meanwhile, Empowa has delivered a proof of concept project in Beira involving thirty families who now have access to better housing. Zanders: "Through this approach, about sixty percent of Mozambique's population will be able to find a better house. Now, our focus is on scaling up in Africa. Individuals as well as large companies and institutions can invest in our projects."
Systemic change through use of new technologies
Greg Schneider, COO at Empowa, explains that people often associate new technologies such as blockchain with crypto systems where people want to make a lot of money more than anything else. "We are not using crypto functionality to speculate, but to build a new financial infrastructure to help people in Africa find affordable and better housing."
The African market for affordable housing is still largely blocked. This is mainly because current systems are expensive and sluggish. Through Empowa, people are able to invest in better housing. " By doing that, you not only get a good return on your investment, but you can also really mean something to local communities. It's not just about the houses per se, but on average, building one house creates at least five jobs. And a more resilient home in a better-planned environment also mitigates the local impact of natural disasters," Zanders states.
Moreover, Blockchain and other new digital methods make it easier to move money around in a transparent way, in countries where transactions are often unpredictable and expensive. According to Schneider: "When we send money to Mozambique through our system, it arrives at its destination within a few days, or even faster. With financing through traditional banking systems, it can sometimes take months for the money to get to the right place. Also, investors can see where their money ends up and how our projects are doing in just a few clicks."
Intense Solutions: from 'couple of students with a great idea' to a company with huge ambitions – Innovation Origins
It is difficult for large companies to gain insight into how their employees are coping. If it's up to the founders, Intense Solutions is going to help companies overcome that problem.
Collaboration
This story is the result of a collaboration between
Eindhoven University of Technology
and our editorial team. Innovation Origins is an independent journalism platform that carefully chooses its partners and only cooperates with companies and institutions that share our mission: spreading the story of innovation. This way we can offer our readers valuable stories that are created according to journalistic guidelines. Want to know more about how Innovation Origins works with other companies? Click
here