Nini West-reservoir. Image: Maersk Drilling
About Decarbonizing Europe
What does the Recovery and Resilience Facility entail?
The European Commission has made available an amount of 723.8 billion euros
to combat the consequences of the corona crisis and make Europe greener, cleaner, and future-proof. All member states have the opportunity to submit plans for disbursement from this Recovery and Resilience Facility.
Who is participating in the Recovery and Resilience Facility?
All the member states of the European Union. All member states? No, The Netherlands has not submitted plans as yet. Although, it became public knowledge at the end of January that hard work is going on behind the scenes in the Netherlands to secure some of those European billions.
What do the member states have to spend the money on?
At least 37 percent of the funding should be used for making their countries more sustainable and 20 percent for digitalization. In addition, there are also other key points:
– Smart, sustainable and inclusive growth
– Social and territorial cohesion
– Public health, economic, social, and institutional resilience
– Policy for future generations
What else is happening?
Apart from that, the EC has identified several so-called flagship areas:
– Power up
– Renovate
– Recharge and Refuel
– Connect
– Modernise
– Scale-up
– Reskill and upskill
What is Innovation Origins planning to do?
Over the next few months, we will be focusing on the implementation of these plans. We will be outlining what each country is doing to reduce CO₂ emissions, and we will be reporting on innovative projects. Infographics will allow you to compare the member states' efforts with each other.
Up until 2009, Denmark led the world in CO₂ carbon capture and storage (CCS). This came to an abrupt end when a farmer on the island of Jutland opposed a CO₂ pipeline that was to be built on his land; he managed to mobilize tens of thousands of Danes. The farmer won his case, and between 2009 and 2018 virtually all efforts around CCS ground to a halt. That is until the UN released its fateful 1.5°C climate report in October 2018. The report states that the capture and storage of CO₂ is inevitable if we are to prevent global warming. "Since that moment, CCS has completely taken off here," explains Philip Fosbøl, Associate Professor of Chemical Engineering at the Technical University of Denmark (DTU).
With that, it seems that the Danish government is not beating about the bush: Denmark is counting on reducing four to nine megatonnes of CO₂ emissions by 2030 by storing it two kilometers under the seabed. To put those numbers in context, a reduction of 7 megatonnes is three-quarters of the total 9.1 megatonnes of cutbacks Denmark aims to achieve by 2030. As such, Danish climate goals seem to be unattainable without CO₂ storage.
CCS: pros and cons
Carbon capture and storage is the act of capturing CO₂ and then storing it. In Denmark, this is done in storage chambers under the seabed that were once used for oil and gas extraction. Opponents, such as Dan Belusa in this article, do not consider CCS to be a sustainable technology. Capturing, transporting and storing CO₂ consumes a lot of energy, gives polluters the opportunity to continue with the same old, polluting techniques, and stands in the way of sustainable initiatives.
On the upside, CCS is the cheapest way per metric tonne of carbon dioxide to drive down large-scale emissions. An enormous amount of CO₂ can be stored in a short period of time: CCS projects in Denmark are expected to be ready for use in 2024/25. Calculations by the Geological Survey of Denmark and Greenland (GEUS) reveal that there is space for 22 billion tonnes of CO₂ in the Danish North Sea. In other words, there is enough room for about 750 years of Danish CO₂ emissions.
CO₂ storage project
Last December, the Danish government presented a national CCS-strategy and announced to invest a total of €36.5 million in two ongoing offshore CCS projects: Greensand (led by INEOS Energy and Wintershall DEA) and Bifrost (led by Total CO₂ and its DUC partners).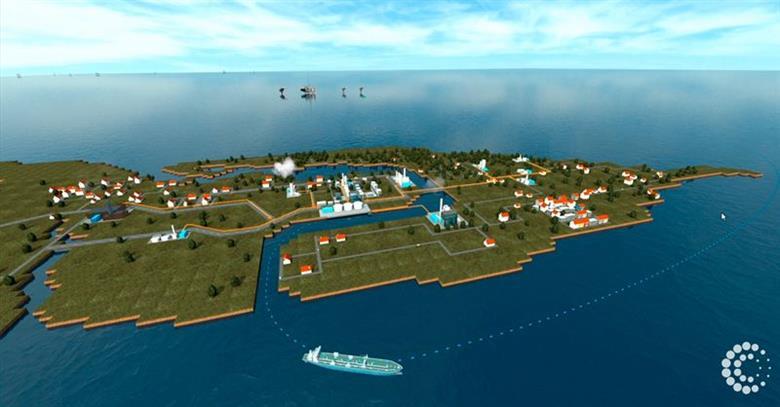 Greensand estimates that by 2030 it will be able to store four to eight million tonnes of CO₂ per year in the Siri fairway cluster of oil and gas fields, located 220 kilometers off the Danish coast. The current plan is to inject liquid CO₂ into the reservoirs. The CO₂ will be transported to the reservoirs by a new build CO₂ carrier. The carrier picks up captured and liquified CO₂ from temporary onshore storage facilities close to large emitters or clustered gathering points.
While Greensand plans for carbon-neutral ship transport of CO₂ to the storage site, other offshore CCS projects in Europe consider onshore injection of CO₂ via an installed pipeline on the seabed. "Both solutions have pros and cons, but together offer flexibility in a future commercial market for CO₂", says Liya Khasanova, Senior Innovation Lead at Maersk Drilling.
Maersk Drilling's offshore drilling rigs and expertise are being used to repurpose existing oil and gas wells for CO₂ injection. During phase one, Maersk Drilling formed the Greensand consortium together with INEOS Energy, Wintershall Dea, and GEUS.
At the end of last year, the project overcame its first major hurdle: the Nini West reservoir was granted a feasibility certificate for CO₂ storage by DNV – an international classification authority for the maritime industry. With this certificate in its pocket, the project embarked on the pilot phase, which subsequently saw the consortium expand from 4 to 23 parties. The project expects the first 0.5 – 1.5 million tonnes of CO₂ to be available for storage by the end of 2025. By that time, transport, capturing facilities (including liquification), and temporary storage facilities will be in place, too.
Pioneering
For the Greensand project, the difference between 0.5 and 8 million tonnes of storage capacity per year is substantial. It says something about the pioneering role of the project. There are still some uncertainties, among them the reservoir CO₂ capacity in terms of volume and rates, and the cost of the capital investment. Khasanova is aware that pioneering entails risks: "Technical risks concerning the reservoir, for example, or the lack of a legal framework. Plus, of course, the commercial risks associated with the CCS revenue model."
Legal framework
All of these questions can be traced back to government policy. "The government is demonstrating full commitment to CCS in how it provides subsidies and clearly communicates its intentions. However, if they want to meet the 2030 climate targets via the storage of CO₂, a legislative and regulatory framework must be in place by 2024. There is still a lot to be done in that area," Khasanova notes.
Fosbøl is also apprehensive. "The government has sky-high expectations of CCS, but is not putting enough time and money into it to live up to those expectations. If well over 75 percent of CO₂ reduction is to come from this, there needs to be a proportional investment and indeed, a solid, national framework is lacking."
As an example, the scientist cites that the government subsidized the first phase of Greensand while it was still legally illegal to store CO₂. "They had simply forgotten about that; can you imagine that? Then, in all haste, a law had to be pushed through that legalized that storage. I then think: 'Come on guys, take it seriously."
Financial support
Despite the fact that CCS is considered a "key tool" in Denmark's climate strategy. Despite the government reserving €26.8 million in the recovery plan for further research into the technology and announcing last December that it would invest €36.5 million in two CCS projects (Greensand and Bifrost), Fosbøl says there is comparatively not enough money going into research and projects revolving around the technology.
"Look at the development of wind farms. That's where four to five billion euros go every year. For CCS, sixteen billion euros has been set aside until 2040. That seems like a lot, but it's really a drop in the ocean compared to other industries. With these amounts, our industry cannot make the impact that is specified in all the Danish climate plans."
Offshore and CCUS
Where CCS is concerned, the attitude of the general public is still somewhat hesitant. This is not so strange; the technology was practically completely sidelined by the government until 2018.
Khasanova believes that the general public should be educated about the technology. "Projects and companies are actually adopting a sustainable approach and do not want to stand in the way of green innovation. It helps that the focus is on storage under the seabed, rather than on land, far from their own 'backyard', so to speak."
An often-heard argument is that if those huge sums of money are invested in capturing and storing CO₂, why not reuse it? Something Fosbøl agrees with, which is why the scientist invariably refers to CCUS (carbon capture, utilization, and storage) during the interview.
For CCS, sixteen billion euros has been set aside until 2040. That seems like a lot, but it's really a drop in the ocean compared to other industries. With these amounts, our industry cannot make the impact that is specified in all the Danish climate plans.

Philip Fosbøl
Reusing CO₂
The DTU is looking at a variety of options for reusing CO₂. Enzymes – catalysts that can make a specific chemical reaction take place – play an important role here. When enzymes are electrified, a process is initiated that can produce chemicals and fuel such as methanol.
"CO₂ is then catalyzed into methanol or formic acid that way. This is how we put CO₂ to use in the production of chemicals that currently come from fossil sources," Fosbøl goes on to explain. The ability of enzymes to accelerate the speed of chemical reactions – and in the process extract CO₂ from the air – could very well become an important weapon in the fight against greenhouse gas emissions. Fosbøl sees ample opportunities. "In the future, we can capture CO₂, store part of it, and reuse part of it. Then planes will fly on recycled CO₂."
All eyes are on his research field in Denmark, and Fosbøl expects that this is bound to intensify over the next five years. He is not losing any sleep on account of that pressure. He does wonder whether the Danish government really has the courage to invest so that the country can once again become a leader. "As a rich, progressive country, we bear a certain responsibility. Denmark can show that CCUS is indispensable in the fight against climate change."
Support us!
Innovation Origins is an independent news platform that has an unconventional revenue model. We are sponsored by companies that support our mission: to spread the story of innovation. Read more.
At Innovation Origins, you can always read our articles for free. We want to keep it that way. Have you enjoyed our articles so much that you want support our mission? Then use the button below: