© POP'HUB-store
The POP'HUB store was recently established in the city center of Nijmegen. Here you can find a colorful collection of innovations and inventions from the Nijmegen region in the Netherlands. Not to buy the stuff, but to show it to a broader audience and give the innovations a flying start.
London, Eindhoven, Amsterdam. Wherever you go, nowhere in the world can you find a store where the latest innovations of inventors and companies are shown to the public, as is now happening in Nijmegen's Marikenstraat. The idea for the POP'HUB store comes from Dick Bos, an entrepreneur for forty years and the man behind StartUp Nijmegen. Here, around 120 young entrepreneurs receive a considerable amount of guidance and support from experienced entrepreneurs. From this background, Bos missed a place where they could showcase their innovative products. "Because by showing what you've got, you can validate products. What do people think of it? Are they waiting for it? And what do the innovations evoke in the audience?"
In short: a store that presents innovations, validates ideas, and provides a connection. The idea for a POP'HUB store was born and opened its doors last fall.
You walk around here among the inventions of special Gyro Gearlooses who have come up with an invention in their attic room, young entrepreneurs who want to put a new product on the market, but also technological innovations of large companies with billion-dollar sales, such as NXP. Bos: "As long as it was conceived and developed in the Nijmegen region, that is our condition."
Colored water jet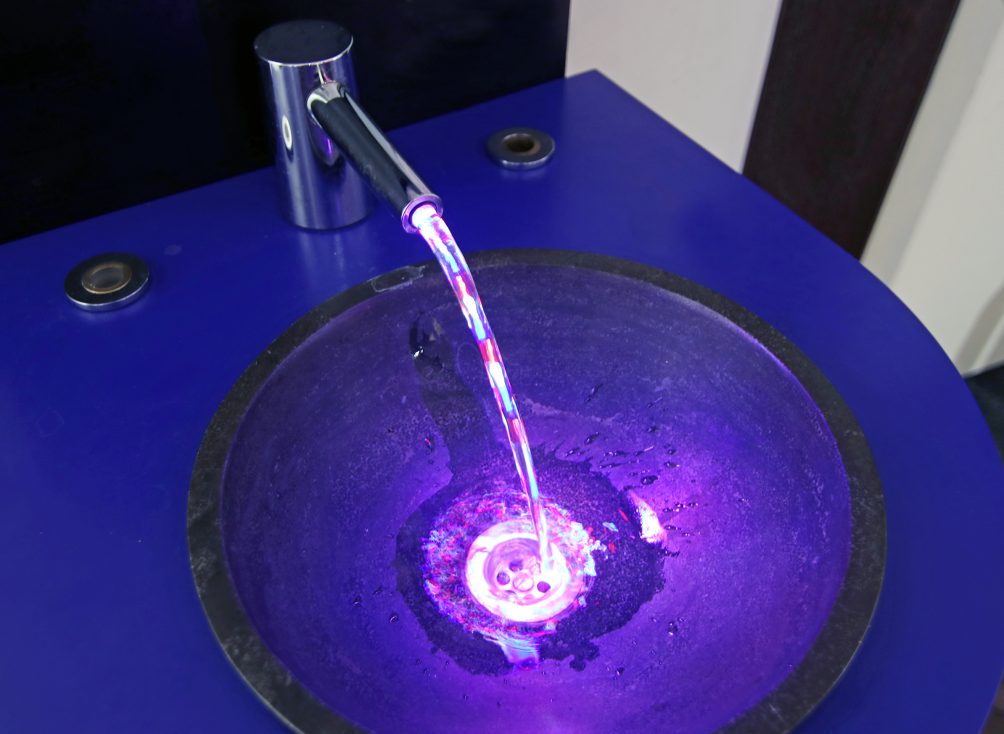 Take the Wonderfoon, an old-fashioned telephone with a rotary dial combined with smart software that is user-friendly for elderly people with dementia. The phone rings, for example, and as soon as someone answers, it passes on the message that it's time for the blue pills. If someone doesn't pick up, a call is returned a short time later, and if that has no effect, a call is automatically made to one of the children. The Wonderfoon can also play old sing-alongs and the lights in the house can be controlled by it. "For older people, the device is recognizable and therefore easier to use than, say, a smartphone," says Patrick Messmer, creative project manager of the POP'HUB store.
Another innovation that can be seen at the POP'HUB store is the light-guided water jet in which colors but also letters can be projected, invented by Nijmegen native Paul Kessener. Messmer: "You can certainly think of concrete applications, for example, you can make the beam red with warm water and blue with cold water. Or how about showing the text 'don't waste water' when a tap is on for a long time." Applications abound. Bos: "But an entrepreneur is still needed who can apply the invention to a product and make it big. Why wouldn't that be in this region? Maybe this person will walk right in."
More connection between inventors and companies
An important task of the POP'HUB store is to connect companies and innovators so they can strengthen each other. It can inspire new ideas, connections, and collaborations. "I believe in it, but whether it will actually work that way remains to be seen," Bos says. Every week there is an online 'Let's Innovate' where innovators tell their stories.
The POP'HUB store should not only lead to connections between companies. Meanwhile, the 'casual' visitor also learns a lot about what innovative developments are happening in the region. Messmer: "Many people do not know, for example, that the chips that are in almost every car are made in Nijmegen by NXP. It opens eyes and you teach people something new." And it does provoke discussion. Is an algorithm that can perfectly print out any work of art by Vincent Van Gogh with a 3D printer, including the relief of the paint, beautiful or objectionable? It's up to the visitor to decide.
Because things move fast in the world of innovations, the POP'HUB store itself wants to constantly innovate as well. The store has a flexible layout and on average after two months the innovations make way for something new. The POP'HUB store is currently closed due to lockdown, but will reopen to the audience as soon as it is allowed to.