Oliver von Malm in Kibera (c) Start Somewhere
The German architect Oliver von Malm developed a construction system that enables the residents of the Kibera slum in Nairobi to build and dismantle their houses much like Lego.
Heat of up to 50 degrees Celius indoors along with poor hygienic conditions – that is the architecture that Oliver von Malm came to know in the Kibera slum. Kibera is one of the largest slums in the world. An estimated 500,000 to 1 million people live here in a confined space – without sewers and running water. Von Malm was still an architecture student when he met two volunteer teachers in Kibera in 2011. At the time, they were teaching eighty students in a windowless building. This level of commitment impressed him, so he decided that he wanted to help.
He collected school materials and organized fundraising events for charity as soon as he was back at the University of Innsbruck in Austria. He later said in a Tedx Talk: "At that time I only knew students and the only thing they spent money on was beer." He used the proceeds to support the Global One Primary School and Oloo Children Centre in Kibera. Over time, the fundraising events evolved into the non-profit organization Start Somewhere, which has since significantly improved the lives of students and teachers. The donations are used to pay for two meals a day at the school, medical care, and school equipment. One side effect of this commitment: Within ten years, eighty students turned into 800!
Traditional construction system
In 2015, the school founders asked him to design a new school building. Von Malm was pleased to finally be able to contribute his professional expertise. The traditional construction system in the slums is "a catastrophe from a climatic point of view," as he points out. The huts sometimes give off as much as 50 degrees C in heat. Inside they cook on an open fire and it often happens that a stove topples over. The resulting fire spreads quickly throughout the slum because of its wooden construction. That is why the architect expanded the scope of the project and wanted to create a construction system that would be useful to all residents living in slums.
There are two traditional construction methods in Kibera: One is based on a wooden frame, wet soil, and a roof made of corrugated iron. The wet soil is slapped onto the wooden frame and those who can afford it apply another layer of plaster. This prevents the earth from being worn away by rain. In the second construction method, the entire wooden frame is covered with corrugated iron. Corrugated iron is one of the cheapest building materials. But it does not insulate well, rusts through after just a couple of years, and then has to be renewed, the architect explains.
Cheaper and higher quality
Von Malm devoted his Master's dissertation to the project. The aim of the research was to develop a construction system that would facilitate cheaper yet higher quality construction. As in, a technology that could be realized together with the people living in the slums – and using local materials. He wanted to empower them this way so that they could improve life in the slums from the inside out – independent of any industrialized nations.
In order to secure funding for the project, he launched the fundraising campaign 'Let's start somewhere' and was able to enlist the PERI Group as a technology partner. The German company is one of the world leaders in the field of frame and scaffolding technology.
Like Lego
In 2019, he presented "the first mortar-free construction system using hollow concrete blocks designed to make it possible to build houses in large quantities," said von Malm. The construction components can be assembled and dismantled by hand in a push-fit system – just like Lego. This is an advantage insofar as the slums' residents own their houses, but not the land. Slums are informal settlements. If the land is reallocated, e.g. for road construction, the inhabitants must leave the land – and their houses. The new construction system would simply allow them to take their homes with them.
Natural air conditioning
The walls of the hollow blocks measure just two to four centimeters in width and the cavities in between are filled with soil. This saves on concrete. At the same time, the building is made windproof this way. The soil fills all the gaps where the wind could blow through. Following on from the traditional construction method, soil also serves as a natural air conditioning system. "This is an idea that is thousands of years old," says von Malm. The heavier the wall is, the longer it takes to warm up. This makes sense in a climate zone with a high day/night temperature gradient. In Nairobi, the thermometer rises to over 30 degrees during the day and cools down to 15 degrees at night."
Flexible floor plan
A new feature is designed to create a floor plan with infinitely adjustable angles. It is based on a standard block construction whereby the push-fit system becomes flexible whenever the direction that the block is lying in is changed. When the blocks are layered in the same direction each time, a stable wall is created. If, on the other hand, the direction that they are laid is alternately rotated by 180 degrees layer upon layer, a wall is created that can be adjusted to any angle. Properties in the densely populated slums are usually very uneven. Thanks to the push-fit system, the floor plan can be designed flexibly and the available space can be used optimally.
You can watch an explanatory video about the construction system here.
The roof is still made of conventional corrugated iron at present for budgetary reasons. Trapezoidal sheet metal that does not rust is used in this case. It is given a light coat of paint so that it reflects the sun's rays. A plasterboard ceiling was installed as extra heat protection; according to von Malm, this leads to a perceived cooling-down factor of 10 to 15 %.  
This construction system could provide a single-family home for as little as €1000 to €2000.
Earthquake proof?
To what extent the construction system is earthquake-proof has yet to be tested. According to von Malm, earthquake simulations in laboratories are complex and expensive and require more funding. But for now, he believes that his mortar-free construction system is superior to a fully mortared rigid wall.
"The stacked building blocks have a small amount of wiggle room and can be moved two to three millimeters to the right and left. An earthquake is a horizontal force and we estimate that this displacement capability is an advantage." Nevertheless, there are building standards that stipulate building reinforcements for earthquake zones. Until otherwise proven, this is achieved by concreting in individual hollow sections and a ring girder with reinforced concrete.
The prototype
In August 2019, the concrete hollow block factory in Kibera was finally built and a team received training. By now, the factory has a manufacturing capacity of 75 bricks per day. In November 2019, von Malm was there to erect the first test wall before the school building was constructed – a 350-meter long building with two floors and twelve classrooms. When traveling through the shutdown was no longer possible, he coordinated the rest of the construction process with an Ikea-like construction manual via WhatsApp and Video Call. "I never had to check any measurements. The 50-centimeter blocks are my measurement units and all I had to do was count them. It's almost like 3D printing," he adds. Meanwhile, the final blocks for the school building have been installed, and Malm expected the roof to be completed in September 2020.
Industry on site
The next step is to create a local industry. New customers must be attracted in order to achieve this. Non-profit organizations have already made use of the building blocks. Von Malm: "They are impressed by our construction system because you can build four to five times faster than via conventional methods. They also like the curved architecture, which is aesthetically pleasing. That has never been done before and it does something to people. Other NGOs have already made inquiries and members of the middle class are also expressing interest. This is an important signal for von Malm, as it was never intended to be seen as a second-class home.
A concrete house is a bit of a status symbol for the residents of Kibera. Many of them wish they could live in one of these houses one day. At present, however, it is still unclear whether they can really afford such a house or whether it will have to be subsidized, says von Malm. Thanks to the low concrete usage, he was able to keep the costs below the level of traditional construction. Albeit only over a cumulative period of ten years. "It could be the case that the initial investment can't be raised and long-term thinking is not an option. In the slums, people live from one day to the next."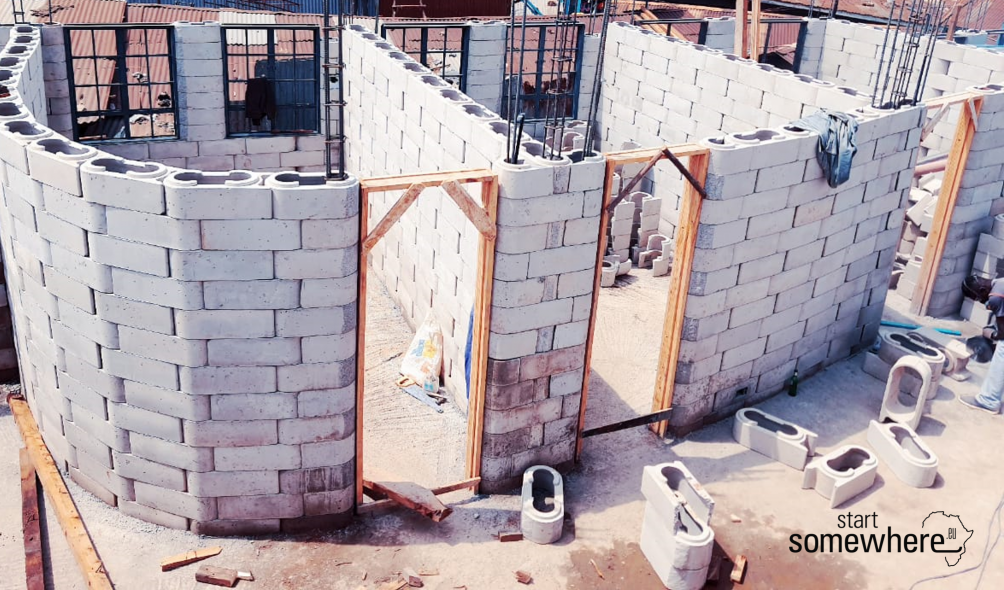 Opportunities for optimization
He is currently working on these issues in his dissertation, funded by the DOC grant of the Austrian Academy of Sciences (ÖAW). "The technological side works, but the building blocks has to be competitive with other products on the market as well. There is also the psychological effect: Are the people in Kibera willing to take their homes down and rebuild them elsewhere when the bulldozer shows up? We have to work on these three issues and there are still plenty of opportunities for optimization."
Work still needs to be done on the software for planning out the architecture and for budgeting the costs. It is still a tablet version right now, but will soon become a smartphone app. Then house builders will be able to adapt their floor plan to the floor space via a touch screen and at the same time receive an automated cost estimate.
Funding
The pilot project involves constructing a hollow concrete block factory and a school building in the Kibera slums in Nairobi by the end of 2020. The realization of the undertaking has been commissioned by The Deutsche Investitions- und Entwicklungsgesellschaft mbH (DEG, German Investment and Development Association), a subsidiary of KfW-Bank, together with PERI GmbH. The project was co-financed within the framework of a develoPPP-project of the DEG  from funds provided by the German Federal Ministry for Economic Cooperation and Development (BMZ).
Also interesting:
New solar collector makes solar energy far more viable for developing nations
Tiny House for the re-integration of homeless people