Despite the rollout of mass vaccination campaigns, widespread easing of restrictions in Europe appears to be largely out of the question for the time being. Vaccination in the EU is still taking place at a slower pace than elsewhere. The pandemic has anything but died out, and most member states still have far-reaching coronas measures in force. These include travel restrictions, curfews, compulsory work-from-home policies or stays in special quarantine hotels after a positive test.
Meanwhile, large-scale inoculations have been underway in the western world for a month and a half so far. The pace is gradually picking up, but we will have still fallen far short of building up enough herd immunity by the summer to consign the corona crisis to the history books once and for all. The maps below show how 'far' Europe is in its campaign and how many injections it administers per 10,000 inhabitants per day.
How is the Netherlands doing? After a slow start, we are no longer very much out of step. Moreover, the daily rate of 16 vaccinations per 10,000 inhabitants is now even slightly higher than the EU average.

Injecting our way to freedom
Serbia was the surprisingly fastest innoculator in Europe last week. With a vast supply of Chinese and Russian serums, they have now reached an even faster pace than that of the UK. This optimal pace is still not achievable in most EU countries owing to supply problems. Denmark and Sweden indicated last week that they hope to have finished it all before the summer. However, this does require a substantial catch-up effort that is expected to materialize over the next few months.
It is only in Iceland that the much-anticipated all-clear pandemic signal is in sight as of mid-February. The corona crisis was never really a major problem on this island. Ever since the beginning of this year, the number of new reports has shrunk to a few per day. Last Thursday, the flags could be raised in celebration following the first working day with zero new diagnoses. Here, a return to the 'old normal' seems a matter of just a few weeks.
Covid-19 is still sweeping across the continent. So the restrictions are supposed to prevent hospitals from filling up. The problems are currently the most acute in the Czech Republic. Still, the 'viral fire' on a global level seems to be dying down somewhat as of late last month. For the first time since the start of the crisis, the number of new reports of infections is steadily dropping this month. Is the end of the second wave in sight?
But whether this is a temporary interlude in the run-up to a third round starring either the South African or Brazilian virus variants in the lead role is hard to predict.

Time to unlock Europe?
Despite the downward trend figures, experts are still not confident of a virus-free outcome. In fact, corona is more than likely here to stay. Even after the pandemic phase. Most countries keep their infection rates at an artificially low level with the help of lockdowns and drastic measures. It still seems far too early to ease up on these restrictions. Ireland and Portugal experienced this first hand in the first weeks of January after they loosened restrictions during the Christmas holidays. When they managed to extinguish their viral fire within a few weeks. They did this with heavy restrictions on freedoms and a nationwide house arrest.
In order to also cope with the impending, more contagious variants over the coming period, the number of 'contact moments' among the general public must be kept to a minimum. What's more, the 'old' lockdown measures were designed for the original Covid-19 variant. But because this has been increasingly supplanted in favor of the more dominant mutant strains, additional rules have been imposed. Cutting down on social mobility can be done in several ways. Most countries have opted for curfews, travel restrictions of a mandatory nature or a combination of both.
The map below shows what the differences between these countries are. Details about the curfew and travel restriction rules become visible when you click on the country concerned.
Curfew and travel restrictions
Portugal and Ireland have the most drastic rules on both counts as a consequence the recent post-holiday outbreaks. Over there, you are only allowed to leave your home at certain times. In addition, all non-essential workplaces are closed. Estonia and Croatia have the least severe restrictions as of February 16. The Netherlands is a bit in the middle in spite of a remarkably high score given by Our World in Data in their Government Stringency Index. This is because this index does not make a distinction between rules of a mandatory or an advisory nature. Like Norway and Denmark, for example, the Netherlands has quite a lot of 'urgent appeals' from their government rather than 'hard-line legislation.'
One of the more hard-line rules in the Netherlands was the subject of fiery discussions again this week after the curfew was thrown out by the courts. Several hallucinatory and nerve-wracking hours later, the rule was nonetheless reversed after a turbo-charged appeal hearing. But why was the curfew introduced in late January? Primarily to provide a buffer to the expected number of additional infections from the reopened primary schools.
Curfew alternatives
If the curfew is taken off the table, an alternative will have to be sought. A look at the European curfew and travel restriction map shows where this should be sought. Whether public support for a curfew is actually any less than it is for a ban on travel outside your own municipality or a radius of just a few kilometers appears to be highly questionable.
Another option is a full shutdown of non-essential workplaces, Although there is bound to be not that much enthusiasm for that either. Moreover, this would lead to further economic damage. Closing all schools again, however, doesn't seem to be particularly realistic either.
The main purpose of these rules is to reduce the number of 'contact moments' among the general public as as much as possible. After all, we're still months away from dwindling infection rates as a result of high vaccination coverage. Even in the case of vaccine leader Israel, the coronavirus is still spreading rapidly among the segment of the population that is partly unvaccinated.
More and more non-EU countries are joining the upper ranks among the top 10 countries in the world. Such as Chile, which has caught up at an incredible speed in the space of a week. Turkey has also been in possession of 100 million Chinese serums since the end of January and will probably overtake Denmark, Romania and Poland within the week.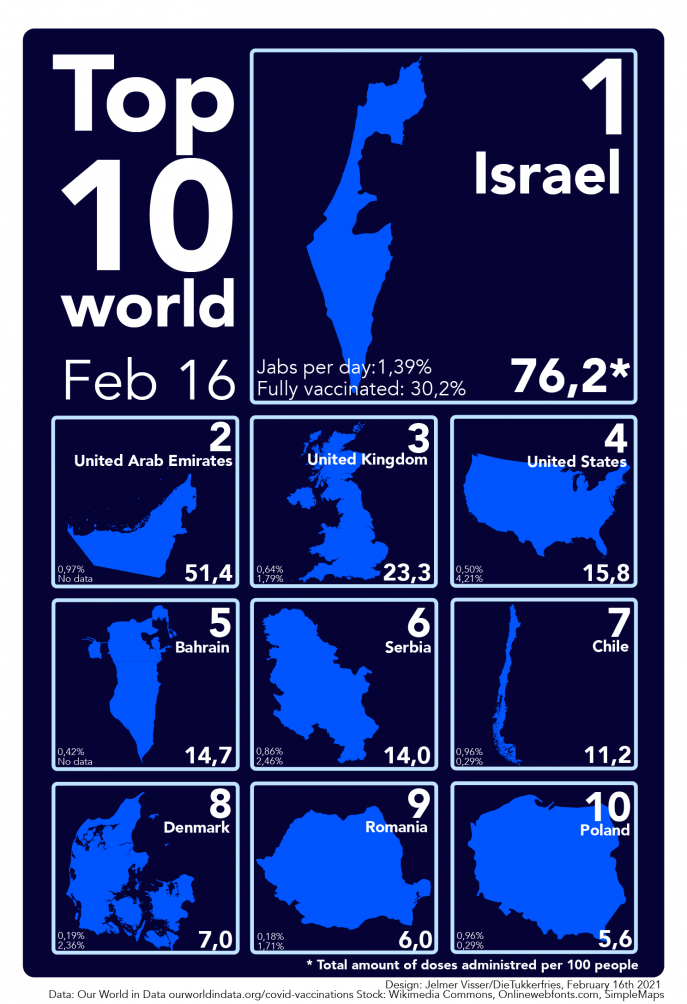 Three fundamental strategies
Last March, we learned that governments base their corona strategy on one of three fundamental principles: Letting it spread in a controlled way until it dies out, mitigation or Zero-Covid.
Sweden tried the first method last year, but backtracked in the fall because the expected herd immunity failed to take off. There were far more infections and deaths than in neighboring Scandinavian countries. This controversial, theoretical and completely unproven approach featuring very few measures along with 'protection of vulnerable groups' is still favored by a handful of populists, economists and 'concerned family doctors' who throw out the same repetitive opinion article just about every month.
At present, all corona strategies in Europe fall into the second category: Mitigation. By introducing measures with a reactive approach whenever the figures call for it, the spread of the virus is brought under 'maximum control.'
The main premise here is that hospital services should be able to cope with the influx of patients. Within this strategy, policy is quite often relaxed or tightened to anticipate the latest epidemiological developments without having to completely lock down society in the process. This method is most commonly adopted outside of Europe as well.
A handful of countries take a completely different approach with a so-called zero-covid approach, i.e. complete eradication. The most well-known examples are Australia (909 deaths since the beginning of the crisis), New Zealand (26), Thailand (82), Vietnam (35) and Taiwan (9) where draconian regulations come into effect after only a handful of infections. Is this more effective? According to the Covid performance index, it certainly is. The entire top four have implemented this non-European strategy.
Hero goes for zero
All bets on zero-covid? No doubt. But this is much easier to cobble together on an island. Or in a country with a dubious totalitarian regime that can switch gears pretty quickly. Yet this approach does have one concrete advantage. Flash lockdowns associated with this, which go into effect immediately after a few infections, need not last more than a few days. Last week, Australia's Melbourne and New Zealand's Auckland went on full lockdown after a small outbreak. For just five days.
Yesterday, the restrictions were lifted again as the outbreak appeared to be under control. The result? A society that after less than a week is once again responsibly opening stores, entertainment venues, restaurants, sports stadiums and concert halls. Whereas this has been utterly unthinkable in mitigation countries for almost half a year.
Could this have also been done in Europe? In theory, it could have been. If European countries had not gone en masse on summer vacations after the first wave, it would have been theoretically feasible. It would pose a considerable challenge, but altogether impossible? Not at all.
Ride it out or snuff it out?
"Europe missed this boat at the end of the first lockdown," Swiss virologist Antoine Flahault told the France24 news outlet. He stressed that this approach also proved its effectiveness in the densely populated metropolises of Vietnam and Taiwan. After a year of the corona crisis, not only the microscopic tormentor but also the best plan of action seems to come from the Far East.
With the excuse that this may work in 'collectivist cultures,' you are severely undermining the approach that has proven itself to be effective on all fronts. Epidemiologically, economically, and in terms of impact on society. In fact, this even has a subtle imperialist aftertaste. Moreover, Australia and New Zealand are highly urbanized countries with highly individualistic cultures. They are by no means shielded from 'western influences.'
Wouldn't an open mind and a bit more respect for this 'Asian approach' be more appropriate based on this disaster year of 2020? Copying their strategy on a one-to-one basis may not be possible. But surely it should not be too much to ask to take a leaf out of the book of those places where the Covid crisis could never really become a crisis. And where festivals with tens of thousands of attendees can simply take place without any restrictions. Curfews and travel restrictions within their own borders are not an issue here at all. Otherwise, these types of events would never be truly enjoyable, to say the obvious.