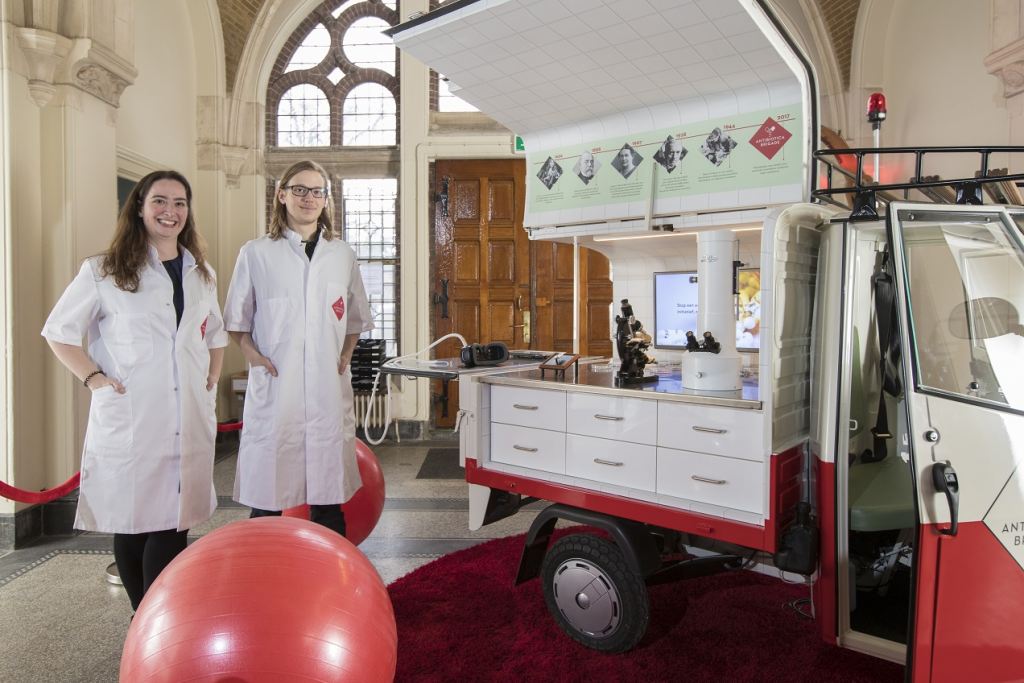 Opening van de Antibiotica Brigade Museum Boerhaave De Antibioticar
Wie nog altijd een bezoekje wil brengen aan het Philips Museum, kan tijdens de Dutch Technology Week zijn kans pakken. De eerste gloeilampenfabriek van Philips houdt in het weekend van 20 en 21 mei open dag. Daarbij is niet alleen het eigen Philipsverhaal te bezichtigen. Er is ook een speciale expositie aanwezig van de Antibiotica Brigade.
''Please do not touch the artwork'' zul je niet tegenkomen bij deze tentoonstelling. De Antibiotica Brigade is een rondreizende en interactieve expositie. Waarbij alles wordt belicht wat met antibiotica te maken heeft. Denk bijvoorbeeld aan het gebruik, de ontwikkeling en de resistentie van het geneesmiddel. De toeschouwer kan door microscopen kijken of met een Virtual Reality-bril over de geschiedenis van antibiotica leren. Je kunt zelfs je hand scannen op bacteriën. Dus zorg maar dat je de praktische tips van de expositie opvolgt: was altijd je handen na toiletgebruik.
Het Philips Museum, op de Emmasingel 31 in centrum Eindhoven, is van 11.00 tot 17.00 uur open. Hierbij is de toegang gratis voor alle bezoekers. Naast de Antibiotica Brigade heeft het museum ook nog andere exposities.
Meer weten over de activiteiten van Philips tijdens de Dutch Technology Week?
Zie hier een overzicht.
Steun ons!
Innovation Origins is een onafhankelijk nieuwsplatform, dat een onconventioneel verdienmodel heeft. Wij worden gesponsord door bedrijven die onze missie steunen: het verhaal van innovatie verspreiden. Lees hier meer.
Op Innovation Origins kan je altijd gratis artikelen lezen. Dat willen we ook zo houden. Heb je nou zo erg genoten van de artikelen dat je ons een bedankje wil geven? Gebruik dan de donatie-knop hieronder: