The record heat in Europe has also being enjoyed by scientists from Łódź (Poland). Among their own inventions are materials that protect against UV radiation. We usually remember about UV radiation when the sun is out and shining brightly. Then we smear ourselves in sunscreen and cover our bodies with clothes in the hope that we will be kept safe from the sun. Nothing could be further from the truth. Creams and ordinary clothes protect only to a small extent. 95% of UVA radiation from the sun reaches the Earth regardless of the season or cloud cover. It easily penetrates through clothing (even thick clothing), skin and reaches the deep layers of our skin.
The list of damage it causes there is long. UV radiation causes photosensitization. It accelerates skin aging. It causes changes in DNA as well as cancers, e.g. melanoma. And not just that – says Prof. Jadwiga Sójka-Ledakowicz from the ŁUKASIEWICZ – Textile Institute in Łódź. Ultraviolet radiation is equally as harmful to all kinds of objects. Under its influence, paper deteriorates in museums and archives, paint fades in paintings, parchment crumbles.
Almost 100% protection
What if instead of a cotton shirt, you could wear a T-shirt that absorbs that radiation? How about installing roller blinds in an art gallery which are made of fabric that reflect harmful UV rays? It is possible. These kinds of materials were developed at the Institute of Textiles. Fabrics produced by local scientists protect against UVA, UVB, UVC, and their UPF (Ultraviolet Protective Factor) ratio is greater than 40 as well. This means they block almost 100% of ultraviolet radiation.
To be more precise, scientists from the Institute in cooperation with researchers from several other Polish scientific institutions, created two types of innovative absorbers, i.e. special chemical substances that absorb and reflect ultraviolet radiation. They then integrated these into the structure of textile materials.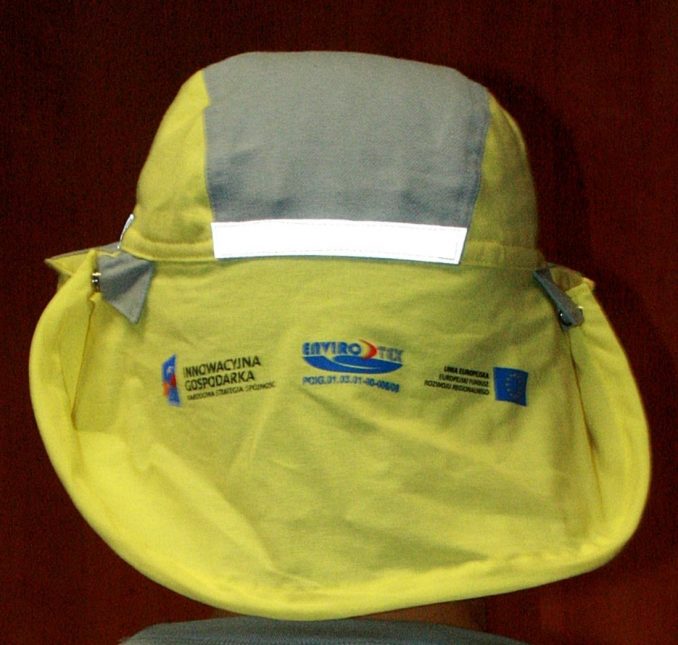 The first type is organic absorbers which are based on triazine. These are in the form of colorless dyes, which, when added to the color bath process of the fabric, are absorbed by the material's structure and give it UV-absorbing properties. They can be used with cellulose-based materials such as cotton, viscose, flax or blends with cellulose-based fibers. "It's not just about clothing absorbing UV radiation. A person in this type of clothing must feel comfortable, should not sweat, the fabric must have enough breathability and include the necessary parameters for releasing water vapor as well as for retaining color when exposed to various wet and dry conditions," says Prof. Jadwiga Sójka-Ledakowicz. The second type of absorbers are inorganic absorbers. These are based on micro- and nanoparticles of metal oxides (titanium dioxide, zinc oxide and copper oxide) and oxide composites with silica. They are introduced onto the surface of the material either by coating it with a special paste or by aqueous dispersion containing micronized particles from a modifier. The fabric protected this way consequently reflects UVA, UVB and UVC radiation. In addition, nanoparticles inhibit the growth of microorganisms. This type of material may be used to produce roller blinds, awnings, umbrellas, garden furniture or other objects that are meant to protect against UV rays.
Banknotes under UV-lamps
Scientists from Łódź developed the materials as part of a larger scientific project called 'Envirotex.' At the same time, a clothing line was created for people who spend a lot of time in the sun, e.g. farmers, builders or sports referees, as well as for people working with bactericidal lamps or who check the authenticity of banknotes. For example, protective gloves for people who check banknotes' authenticity under UV lamps, protective T-shirts for the teams renovating tram tracks in Łódź, and roller blinds which protected the exhibits at the Academy of Fine Arts. The Institute received patent protection for its absorbers and their manufacturing technologies.
IW has already been granted several licenses for the technologies it has invented.  I hope that products made of our materials will soon be appearing on the market. We do laugh about how climate change – global warming – does raise the interest in these type of materials, Prof. Sójka-Ledakowicz says.
Support us!
Innovation Origins is an independent news platform that has an unconventional revenue model. We are sponsored by companies that support our mission: to spread the story of innovation. Read more.
At Innovation Origins, you can always read our articles for free. We want to keep it that way. Have you enjoyed our articles so much that you want support our mission? Then use the button below:
Donate
Doneer