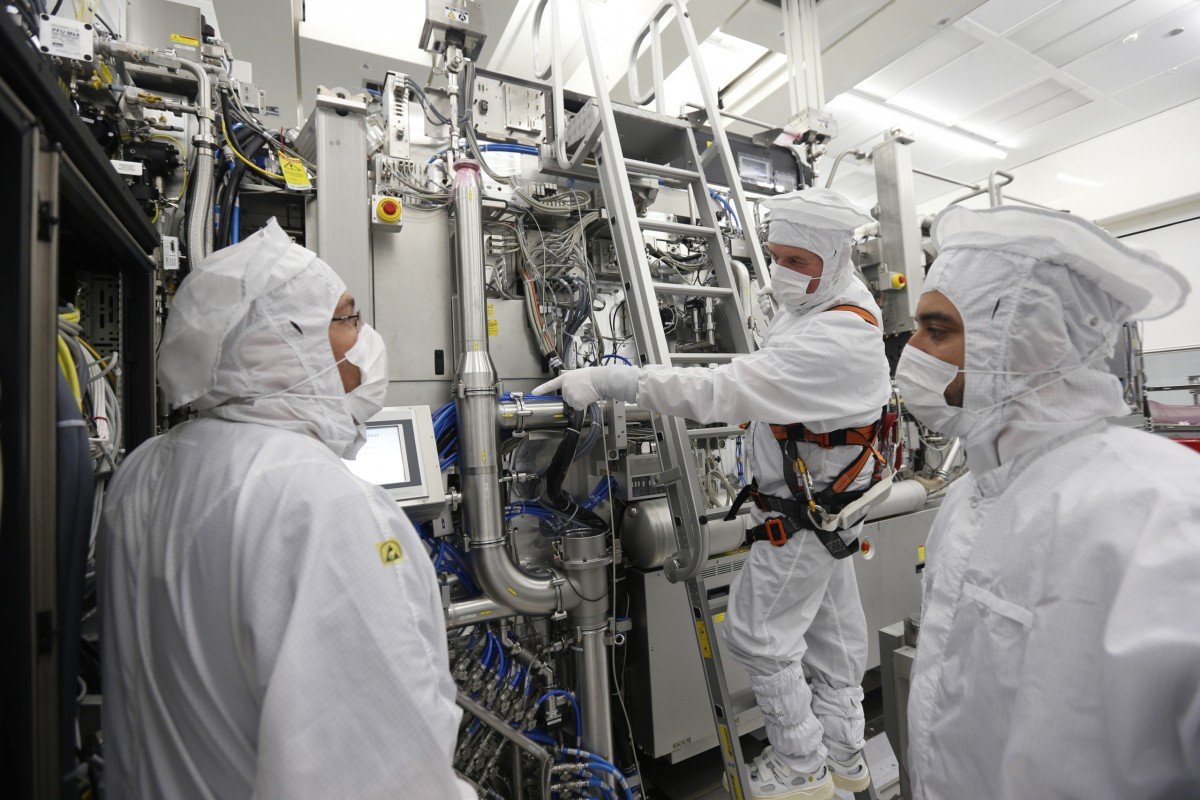 Cleanroom work © ASML
All over the world, cities need talents. The local supply and demand of these people sometimes is a problem, but fortunately, there are many people who would like to show off their talents in an exciting new environment. Eindhoven is one of the cities that need talents from the outside world. So they come, by the thousands. To increase understanding between the city and the new residents, Innovation Origins puts the spotlights on one of these internationals every Saturday.
When Noélie Wojewoda started working at ASML in the Netherlands in 2007, she was one of the youngest in her group of immediate colleagues; she was also the only woman and the only foreigner. The petite French mechanical engineer, who grew up in the suburbs of Paris, had sought an internship to finish off her Master's studies at INSA Lyon. Having been unable to find a suitable position in the US or the UK, she was offered an internship at Philips in Eindhoven. "I didn't know anything about Eindhoven, but knew that this was a good opportunity, where I could practice my English and finalise my Master's degree".
By the time her six-month internship was completed, she had made up her mind to stay in the city and found a position at ASML through an agency.
123 nationalities
"Back then, the meetings were held in Dutch and I had to ask for a translation," she laughs. "Today you hear English spoken everywhere; so, things really have changed a great deal at ASML over the years". She reels off statistics to prove her point: By the end of 2018, there were 104 nationalities represented at ASML's head office at the Veldhoven campus, and 123 nationalities worldwide. As an indication of the rapid pace of growth, and the endless appetite in the business for scarce skills, only half of the new hires in Veldhoven are Dutch nationals.
Noélie saw her uniqueness at that time as an advantage: "Being different means that people remember you," she quips playfully. More importantly, she quickly realised that she had landed the ideal set-up for a creative engineer. "I just loved the company. It was a very strong point for me – and still is – that the production here at ASML is close to the development centre. You design a piece of the hardware, get it from the supplier, and then walk across the parking area to the production site to see how it works. As an engineer, it is very nice to touch what you had imagined and created. It brought me a great deal of pride."
A playground for engineers
The energising world of opportunity at ASML is the reason why she has remained with her employer for all these years: "It is a really high-demand environment. The semiconductor industry is crazy in the sense that the cycle is really short – every two to three years you have a new machine. So, you never rest. But the company gives you the resources with which to meet these demanding requests, which means there are many opportunities from a technical point of view. You are free to grow your creativity, and to pursue what needs to be done". With a laugh, she sums it up: "Basically, it is a playground for engineers".
ASML's financials support this perspective: the business has invested heavily in ground-breaking research and development (R&D) over the years, with the latest financial report showing R&D spending of €1.6 billion in 2018. Its planned R&D spending for 2019 is €1.9 billion.
"I am a curious person, and try to change projects every three to four years; it is possible to do that in a big company like this. Leading a project would be fun regardless of the business line in which one is, as everything involves innovation and new development. Working with smart people – smart designers, engineers – and leading them to a goal, that is where I get the energy."
Having begun at ASML as a mechanical design engineer in 2006, Noélie now is a project leader in the Extreme Ultraviolet (EUV) business line. EUV lithography technology is relatively newly developed by ASML, in partnership with its customers; the first EUV test machine was delivered in 2014, and there has been steady growth in production and delivery since then. ASML shipped 18 EUV machines in 2018 and plans to deliver a further 30 systems in 2019.
Curiosity
She rates transparent communication and the ability to organise as being amongst her most important skill sets for her role, with the most essential being curiosity. "When we do on-boarding, I always tell people that you have to be pro-actively curious at ASML – always wanting to discover more and to go forward."
A typical day for Noélie involves working with her internal team of ten people, and interacting with an external supplier group of about ten developers. "We discuss issues that may have arisen, track the progress of normal work, and find alignment. That is very Dutch, I think; it is the Polder model of ensuring that everyone agrees. It suits my nature, so I am happy with it."
The working day flies by quickly, which usually means she doesn't have time to go down to the canteen – which, in fact, is a large venue with several different restaurants – for lunch. "It is a high-demand environment. You don't notice the time passing."
Family matters
Despite the pace of work, there is a well-founded emphasis in the company on work-life balance, another reason why Noélie has remained consistently enthusiastic about her work. She moreover believes it to be a contributing factor in the company's innovative success. "I think it is very important that people can focus on work and on the family. People who work normal hours, and who can enjoy family, are more relaxed, can work better and are more focused. If I had to leave my three-year-old daughter for extended periods, I would be stressed and not at ease with myself."
Her parents will be travelling from France during the forthcoming weekend, to attend one of the monthly family days at the ASML Experience Centre in Veldhoven. "They are really excited at the prospect," Noélie says proudly. Asked if her family members understand her work, she thinks for a moment and smiles. "My dad is in the industry, too, and is also a project leader, so we have conversations about our work. And my husband works at ASML. So, yeah, I think my family could summarise in short what ASML is doing."
Growth in complexity
ASML is growing rapidly. Since 2006, when Noélie joined the company, net sales have ballooned from €3.6 billion, to reach €10.9bn in 2018; the number of employees worldwide has increased from 5 600 to 24 000. She sees this growth as an important achievement but says it could take a few more years to determine if it was handled successfully. "With the reality that around 40% of staff were not here two years ago, it is important that we take the time to on-board people properly, especially in demonstrating the culture of the company. ASML is a Dutch company, and its success comes from it being in the Netherlands, and in Brabant. There is a mindset of directness and openness, and respect for the fact that we all have different areas of responsibility. Even though internationals bring new ways of doing things, which is positive, we have in a sense to try to keep the Dutch culture, and to maintain the Brabant identity of cooperation."
Within this growth momentum, ASML's greatest technical achievement has been the creation of the EUV technology, she says. "Ten years ago, it was still in research phase. Now, we see our clients using it to print chips. It is crazy when you think about it, because the machine is very, very complex, and we were told from the start that it would not be possible to develop the technology."
In Noélie's opinion, her highest achievement over the past twelve years has been to maintain joy in her work. "It means that I have been able to find my place, my role, the job and the environment that I like, and that I have been able to shape the environment around me to fit what I like. Every day is an achievement in a sense. That is what makes me stay here."
Support us!
Innovation Origins is an independent news platform that has an unconventional revenue model. We are sponsored by companies that support our mission: to spread the story of innovation. Read more.
At Innovation Origins, you can always read our articles for free. We want to keep it that way. Have you enjoyed our articles so much that you want support our mission? Then use the button below: