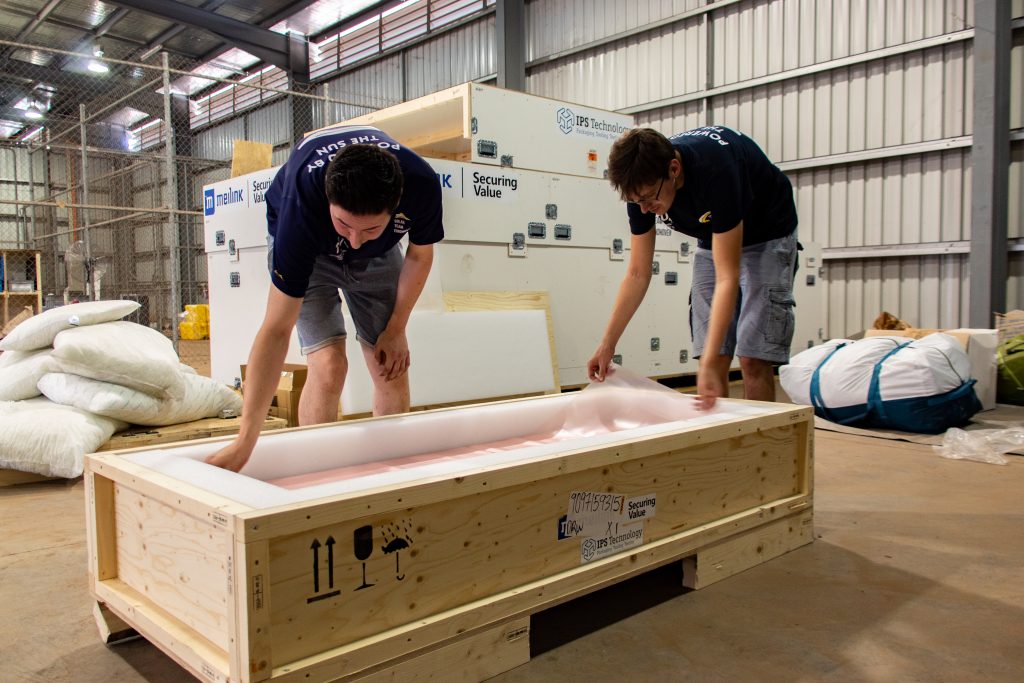 Unpacking the new solar panel, © Solar Team Eindhoven
Exactly two weeks before the start of the Bridgestone World Solar Challenge, Solar Team Eindhoven has received a replacement for its damaged solar panel on the back end of Stella Era. The Eindhoven based team won the three previous races through Australia and is desperate to win a fourth time. A damaged panel almost ended that dream even before the race had started.
During transport from the Netherlands to Darwin, part of the solar panel of Stella Era was severely damaged. "The custom-made replacement is a crucial factor during the race to gain enough solar energy to be able to cover the stages of the 3,000 km route", team captain Carijn Mulder says. "Only because of the help of the team's partners and fans the panel arrived on time to finish the preparations for the start on the 13th of October on time."
More on Solar Team Eindhoven here
During the transport of the solar car to Australia, one of the solar panels was severely damaged by a wooden beam of the transport box. Stella Era's solar roof consists of 5 m2 solar cells and is divided into multiple panels. The damaged panel happened to contain the highest-efficiency solar cells because of its location on the roof and was completely dysfunctional when it arrived in Darwin.
"The team is incredibly thankful for the support we received, from our partners and the people who contributed to our crowdfunding campaign", Carijn Mulder says. The panel and the custom flight case were produced by partners Wattlab and Meilink/IPS Technology. "Both the partners involved and our fans have been very supportive. It's hard not to lose heart when something you've worked so hard on is put at risk by such bad luck. These people supported us and made it possible to finance, develop and transport one of the most important parts of the car. The team is ready to catch up and get ready for the challenge!"
The Bridgestone World Solar Challenge starts on 13 October. In six days, the participating solar cars cover a distance of more than 3,000 kilometres from Darwin to Adelaide. In the coming two weeks, the team will install the solar panel and validate its functioning through testing.
Solar Team Eindhoven is competing in the Cruiser Class. Three other Dutch teams – from Groningen, Twente and Delft – will be competing in the Challenger Class.
Support us!
Innovation Origins is an independent news platform that has an unconventional revenue model. We are sponsored by companies that support our mission: to spread the story of innovation. Read more.
At Innovation Origins, you can always read our articles for free. We want to keep it that way. Have you enjoyed our articles so much that you want support our mission? Then use the button below:
Donate
Doneer