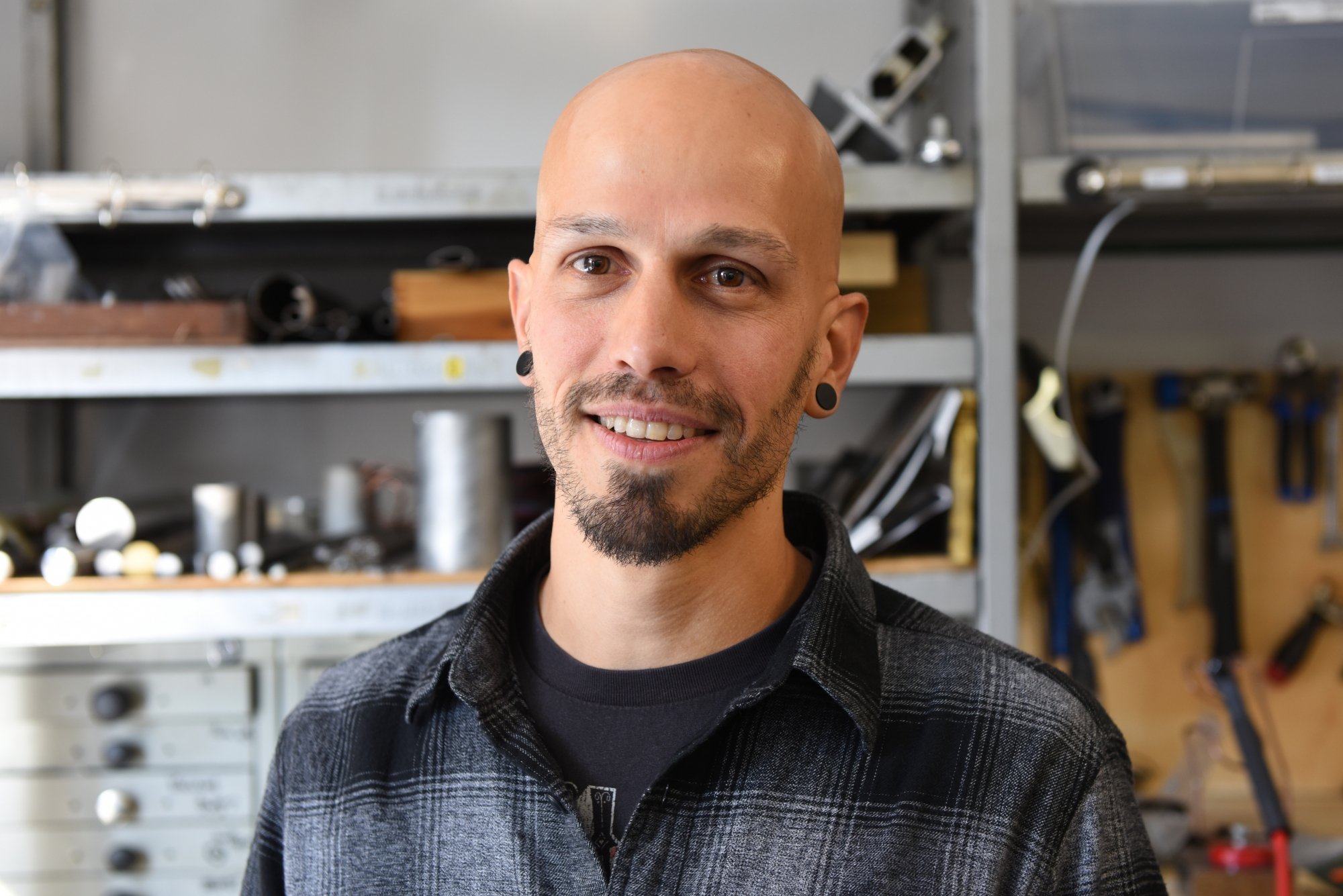 People from many different countries live, study and work in Eindhoven. Every week, Innovation Origins has a talk with an international about what brought them here and what life is like in Eindhoven.
Name: Lucas Prescivalle
Country of origin: Brazil
Work: 3D printing engineer at Shapeways and co-owner of Metal Apparatus
During his lunch break at Shapeways, Lucas came to the workshop of his company. We meet him there. However the fall started a while ago, it is still comfortable enough to sit outside. Lucas' business partner Romanos provides us with tea. We notice Lucas is a bit nervous: "Yeah, I didn't know what to expect," he smiles. After questions about his company, he feels more at ease and starts telling us more. "We are here at the workshop of Metal Apparatus and we build custom bicycle frames. We aim to make the perfect bike. Romanos and I have a shared passion for cycling and we complement each other in our skills." Lucas worked on bikes before he moved to Eindhoven. "I lived in Barcelona for ten years. I studied industrial design and I designed bicycle parts for a company."
Lucas moved to Eindhoven for love. "The company in Barcelona wanted me to keep working for them when I moved here, so I became a freelancer. It wasn't like I always wanted to be an entrepreneur, it came naturally as my life circumstances changed." When Lucas' relationship ended, it crossed his mind to relocate again. "But I was involved in so many nice projects here in Eindhoven, I had a lot to stay for. After we broke up, I focused on work even more. In my first year here I started working part-time at Shapeways, next to my freelance work. Finding a job at this company was a very happy coincidence. I really enjoy working at the company and I actually didn't expect to be there this long. Starting there also had a nice benefit of meeting new people. I already had friends, also because my ex-girlfriend introduced me to a lot of people, but it was nice to enlarge my circle."
(Story continues after photo)

Along the way, Lucas made friends here with all kinds of nationalities. "There are a lot of expats here. For me are all the expats are one of the biggest advantages of Eindhoven. There are a lot of people here who are in the same situation as me. We have in common that we are far away from home and don't have our family close by. So we click together. Although I must say the Dutch are very welcoming to people who come here. Speaking English is no problem at all to them, which is a curse and a blessing at the same time if you want to learn the Dutch language. When it comes to our business in custom bikes,  there is one thing in daily life that stands out to me. Most of the Dutch people see their bicycle as means of transport and not as a hobby. Of course on the weekends a lot of people take their race bike for a spin. We make city bikes. In other countries, cycling is a hobby, whether you are on a race bike or a city bike."
"In my spare time, I also like to take my bike and explore the area. I have a dog, Flo, and she comes along in a cart behind my bike. We go to the woods south of the city." Lucas takes out his phone and shows us a picture of a gorgeous black lab. "I got her as a puppy. When I first arrived in Eindhoven, my girlfriend rented a room at the house of a German family. They were ok with me staying there too, for the time being. The mother of Flo is owned by the father of this family. The family has moved to Rotterdam, but we are still friends. I consider them my family in the Netherlands. Besides getting out and about with Flo I also like to run. I'm also interested in nutrition, specifically in plants and what they for the body. At my home, I have various plants and I think they reflect how you feel. When the plants look good and are well-taken care off, you know you probably feel good too."
Photography: Diewke van den Heuvel
Read more stories of internationals here.
Support us!
Innovation Origins is an independent news platform that has an unconventional revenue model. We are sponsored by companies that support our mission: to spread the story of innovation. Read more.
At Innovation Origins, you can always read our articles for free. We want to keep it that way. Have you enjoyed our articles so much that you want support our mission? Then use the button below: