Amongst the many dozens of people's chit-chat, scientists were heard explaining how their technology works and what they have been working on lately. All the noise and explanations were often interrupted by the ring of a bell that announced the beginning of each event that was about to start at the Holst Centre's Innovation Day at the High Tech Campus.
Nowadays, one of the main topics of discussion is the shape of our future. And it was not missed at this event either. But was does it hold for us? Artificial intelligence? Robots? Sensors? Or maybe all of them? The scientists at the Holst Centre's Innovation Day, were there to show what the future could look like for us and our loved ones.
"It's great to be back here, especially for the teams because they have been doing a lot of great work and now they can showcase their results," said Kathleen Philips, Managing Director imec at Holst Centre. "If you're not able to face your critical customers and allow them to challenge you, you miss part of the rewards. Because you want them to ask the right questions and give you feedback."
The goal of the event was not only to showcase research and scientific work but also to network and make connections. "We also want to inspire people to think of new solutions for all the challenges that we have," said Ton van Mol, Managing Director TNO at Holst Centre.
Tech to see
The different stands at the event were there to allow visitors to see for themselves and experience the technologies that have been developed recently. The stands varied from printing electronics in glass to a sensor for real-time concrete quality for predictive analysis. "Our big problem nowadays is health and you'll see a fair bit of Medtech such as the sensor patches and chips that could be used in medicine," mentioned Philips.
Sebastiaan van Dyck was one of the people who had a stand. He is a project manager at Arranged BV, a company located in Belgium. The technology that they are developing is a dice tray which incorporates a scanning surface. It can be used for board games or table-top RPGs. "We have the patent and we are developing this in a collaboration with the Holst Centre because they are very good at this imaging technology," said van Dyck.
Inspirational speeches
The program of the Innovation Day included speakers who discussed their work and the aim of their companies. The topics they covered varied from medical wearables to photonics and spin-off start-ups.
Marko de Jager is a Principal Scientist of Medical Wearables for Ambulatory Monitoring at Philips Research. He discussed the importance of monitoring patients remotely and providing health care solutions. "For example, a diabetic patient may need a glucose monitor, they may also want to be prescribed an activity tracker as part of a care program to improve lifestyle and to help them cope with their disease," said De Jager during his talk. These technologies and developments hold the possibility to create a new future for hospitals in which care is provided for urgent and critical cases while other types of care are provided remotely.
The stage was also taken by the Chairman of PhotonDelta René Penning de Vries and dr. Nico van Meeteren who is the Executive Director and Secretary-General at Health-Holland. René Penning de Vries spoke about photonics and why this is such a great opportunity. Nico van Meeteren discussed the need to change science and how to combine different platforms in one package.
Read more about what Photonics can bring to our society
This is our 2022 series about the many applications of photonics in agriculture, medtech, data communication, automotive and more.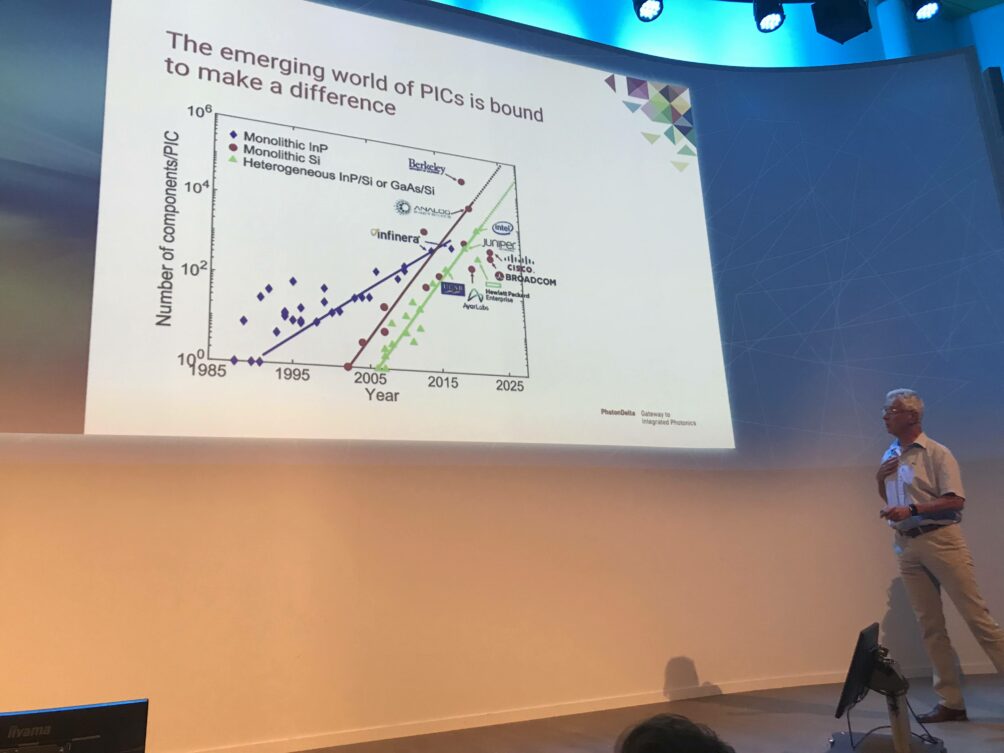 This year's event brought different people together to seek partnerships and show their technologies. But it also had another goal: to make the visitors enjoy being back together. "It's great for the teams because they feel seen and appreciated," concluded Philips.
Holst Centre's 'Smart Chair' improves workplace vitality
As we lead an ever more sedentary life, vitality at the workplace is gaining attention. It seems like everyone wants a healthy and sustainable work environment.
In the next few days, Innovation Origins will cover some specific examples from Holst Centre's Innovation Day.