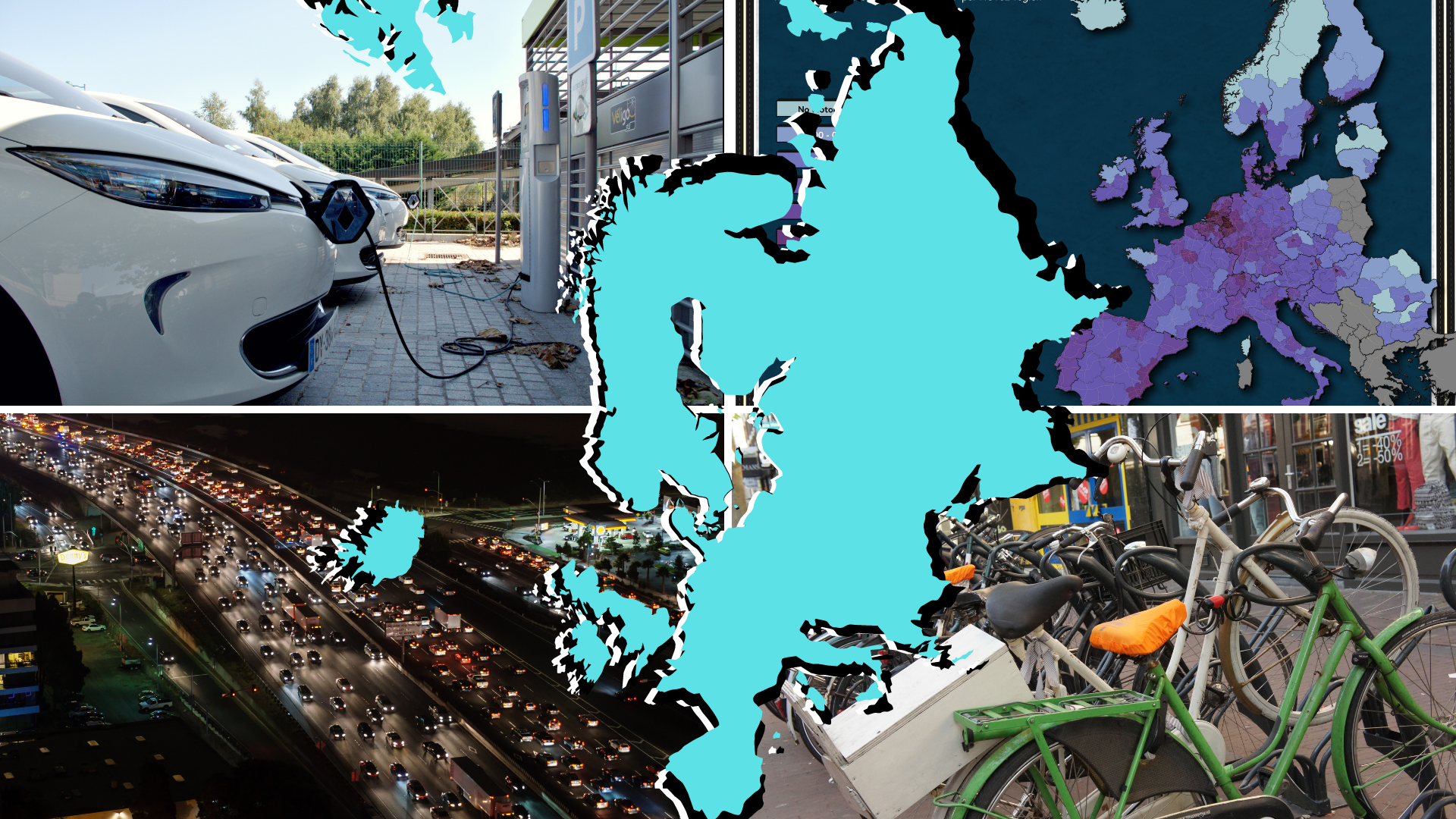 Sales of passenger cars powered by fossil fuel engines must come to a complete halt by 2035. The end is in sight for the traditional petrol station, while charging points are springing up like mushrooms.
Eurostat measures the level of energy sustainability of the member states across three different aspects: heat, power, and transport. And where past editions have focused on central heating and the power socket, this week IO is taking to the road. To kick things off: below is a visualization of where countries currently stand and how this has changed since 2004.
Highways
Whether you drive a sustainable, diesel or petrol vehicle, getting to your destination quickly is a top priority for every motorist. A good highway network that connects large cities is definitely necessary in densely populated countries in order to avoid traffic jams as much as possible. But how is Europe actually organized in this respect?
The map below shows the density of the highway network according to Eurostat's NUTS2 level. Due to its small area, the German city of Bremen is the European champion here, followed by Utrecht, Düsseldorf, Budapest, and South Holland.
If you zoom in closer, the yellow lines also show exactly where these highways are located, courtesy of the data from OpenStreetmap. The highest resolution can be admired by using the MAX feature of the interactive viewer. Incidentally, the densely populated Netherlands has the most extensive highway network on the continent.
From fossil fuels to electric
Nowhere in Europe is the majority of traffic driving electric on these highways. This is hardly surprising, given that we are only at the start of the energy transition. Nevertheless, substantial steps are being taken. By providing all kinds of tax benefits, incentives, and improved availability of charging stations, governments want Europeans to drive electric vehicles en masse over the next few years.
Yet some governments are pushing ahead with this much further than others. This immediately becomes apparent when we take a closer look at the proportion of electric motors in new passenger cars. Norway is the only European country where more than fifty percent of new cars were completely emission-free by 2020. Since this country was also ahead of the curve in terms of heat and electricity, the Norwegians will presumably have more leeway in the coming years to sell their oil to countries that are not yet so far along in the energy transition.
Of the EU member states, the Netherlands was – by a considerable margin – the best kid in the class on this front. Still, a comforting outcome after the lackluster scores in terms of sustainable heating and electricity over the past few weeks. The fact that hybrid mobility is rapidly becoming more normal in recent years can also be clearly seen based on the figures from 2016.
Charging stations
Of course, incentives and good roads are not enough to convince everyone to switch to a green car. After all, as a climate-conscious driver, your very expensive Tesla is of little use if you have nowhere to recharge it.
Consequently, the availability of enough public charging points is of fundamental importance for making the energy transition for road traffic genuinely achievable. Once again, the small and densely populated Netherlands is the absolute front runner in the European Union. In fact, its policies are even cited outside of Europe as shining examples.
The greenest transport
Back to the original question: where is the 'greenest' driving done? As with the heating and electricity contest, Norway gets to call itself the European Champion. Although only transportation by passenger car is covered here.
Nevertheless, it is of course still much 'greener' and healthier to leave the car at home and ride a bike, especially for shorter distances. Although huge strides have been made here in countries like Germany, Belgium, Denmark, and a number of major cities like Paris and London, nowhere else is the bicycle as well established as it is in the Netherlands. With more inhabitants than bicycles, its unique cycling culture has been the envy of many for decades and is being closely followed, especially in the context of green transport and climate change.
A glance at the European bike path map says more than enough. Perhaps the biggest fan of all of cycling in the Low Countries is the YouTube channel Not Just Bikes by a Canadian urban planner who emigrated to Amsterdam specifically for this purpose.
Support us!
Innovation Origins is an independent news platform that has an unconventional revenue model. We are sponsored by companies that support our mission: to spread the story of innovation. Read more.
At Innovation Origins, you can always read our articles for free. We want to keep it that way. Have you enjoyed our articles so much that you want support our mission? Then use the button below:
Donate
Doneer