About Decarbonizing Europe
What does the Recovery and Resilience Facility entail?
The European Commission has made available an amount of 723.8 billion euros
to combat the consequences of the corona crisis and make Europe greener, cleaner, and future-proof. All member states have the opportunity to submit plans for disbursement from this Recovery and Resilience Facility.
Who is participating in the Recovery and Resilience Facility?
All the member states of the European Union. All member states? No, The Netherlands has not submitted plans as yet. Although, it became public knowledge at the end of January that hard work is going on behind the scenes in the Netherlands to secure some of those European billions.
What do the member states have to spend the money on?
At least 37 percent of the funding should be used for making their countries more sustainable and 20 percent for digitalization. In addition, there are also other key points:
– Smart, sustainable and inclusive growth
– Social and territorial cohesion
– Public health, economic, social, and institutional resilience
– Policy for future generations
What else is happening?
Apart from that, the EC has identified several so-called flagship areas:
– Power up
– Renovate
– Recharge and Refuel
– Connect
– Modernise
– Scale-up
– Reskill and upskill
What is Innovation Origins planning to do?
Over the next few months, we will be focusing on the implementation of these plans. We will be outlining what each country is doing to reduce CO₂ emissions, and we will be reporting on innovative projects. Infographics will allow you to compare the member states' efforts with each other.
Studying nowadays has become way easier than in the past. Finding answers on the Internet has made our lives less complicated. But how to look for the right answers and how to find your way in the labyrinth called 'The Internet'? That is where teachers come into the equation. Unfortunately, in Bulgaria, the Internet hasn't really found its way to the classroom. And it turns out to be a big problem. This happened because some teachers do not know how to fully exploit the advantages of the web. A couple of organizations want to change that. Teach for Bulgaria and Interactive Bulgaria have come up with ways to bring even elderly teachers up-to-date. They conduct training both off- and online to bring teachers on board with their mission, to educate and be educated.
The current state of the educational system in Bulgaria
Generally, digital skills in Bulgaria are low in comparison to the EU average. One in five Bulgarians has never used the internet. And there's a chance one of these people is a teacher. While digital literacy is something needed in the 21st century, this is not always the case in Bulgaria. During the Covid-19 pandemic, there were instances in which teachers were walking around students' houses and giving them lessons on paper. This could partially be attributed to some children's lack of access to devices and a proper environment conducive to learning.
According to data, 65 percent of Bulgarian teachers are older than 45 years of age. Yet, age does not seem to be an impediment for teachers to have at least some basic digital skills. "If they want to, teachers in the 50s and 60s can do as well as the millennials. There are some people who are just extremely motivated, and they can be role models when it comes to their technological skills," says Petko Ivanov, Head of Technology and Marketing at Teach for Bulgaria. While digitilization optimizes time and allows for experiential study processes, there are still schools in which technology is not fully embraced.
"There aren't many classrooms that facilitate the 1:1 teaching model. This is a model in which each student has a device, and they work with it. I'm not sure but I think there are around 100 equipped classrooms in the country. They are based on the 1:1 model," Ivanov adds. Although implementing the 1:1 model may seem far-fetched sometimes, it contributes to the improvement of digital literacy. In order to implement digital programs and applications in class, teachers need to be very familiar with the software. This would also boost the digital literacy of the students.
How to handle the problem?
The digital skills of teachers and the levels of digital literacy in the country seem disheartening. But NGOs have taken things into their hands. They aim to educate teachers by experiential learning and focus on acquiring digital skills. Teach for Bulgaria has developed different programs and courses. For instance, they have uploaded a video series about using Google tools on their website.
Petko Ivanov
Head of Technology and Marketing at Teach for Bulgaria
He is part of the first NGO in Bulgaria to create courses for using Google Workspace
"We try to make teachers learn through experience. For example, if we want them to learn how to use Google Classroom, we first ask them to create an account and explain to them the different steps. In a similar way, we would tell them to get to know each other by making them write in the chat boxes. And so on. In this way, they learn how the platform works and get to grips with the interface," Ivanov explains. Furthermore, the team of Teach for Bulgaria has developed different types of informative and engaging content that further educates the teachers on why they need digital literacy.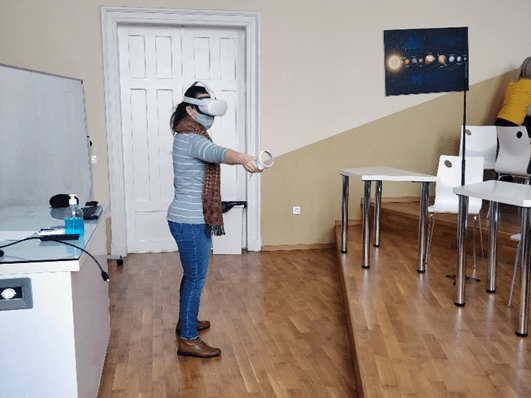 Interactive Bulgaria has done something similar. They have joined the iedu360 website. This is a platform for interactive studying that both teachers and students can use. "We thought that 360-degree visuals would have a good application in the education sphere. Rather than being told stories, students could use their senses such as sight and hearing to learn," says Georgy Palpurin, VR consultant and activist at Interactive Bulgaria. A big part of using the platform is creating content that is based on 360 degrees photographs.
Georgy Palpurin
VR consultant, activist, and team member of Interactive Bulgaria
He is part of the team that launched Interactive Bulgaria and the different projects that are being developed.
In order for teachers to use the website, they need to know how it functions and the different ways to navigate through it. "On our platform, we have created videos that each person can look at and receive all the information they need to create content that could be used for their lessons," Palpurin goes on to say. According to him, during the fall of 2022, they will start making shorter training courses for self-study so they would no longer need to involve halls and lecturers.
Hopeful future
Helping boost the digital literacy of teachers has been an ongoing process since the pandemic first hit. Despite the well-thought-out online classes, there is still a lot to be done to attain a fully digitally literate society. Yet there is a light at the end of the tunnel. More and more teachers are choosing to use mobile devices to somehow help the studying process. For example, this could simply be sending short educational YouTube videos to the group chat on Facebook.
Organizations such as Interactive Bulgaria and Teach for Bulgaria take this a step further. They allow teachers to use other tools unrelated to social media for education. Google Forms, for example, enables them to easily create tests to check knowledge. "The videos we did were accepted really well. We've had 200,000 views for all the lessons that we did for about a year," says Ivanov.
The optimistic reaction from the teachers' side encourages innovation of teaching methods. Now more than ever, students could be part of their lessons rather than being passive observers. This is an opinion that both Georgy Palpurin and Petko Ivanov share. "I believe that the whole educational system has to move towards digitalization because the contemporary student has been raised with a mobile device in their hand," Palpurin contends. According to UNICEF, 77 percent of children and young people use social media every day. Yet, only 57 percent of Bulgarian teenagers between the ages of 16 and 19 rate their digital skills as basic or higher, significantly below the EU average of 82 percent.
"All in all, the teachers that we worked with were super positive. We try to make teachers learn through experience so later on, they can implement the experience that they gain in their classes," concludes Ivanov. He believes that in order for teachers to learn, they need to have the appropriate support from their schools.
Cover photo: ©Teach for Bulgaria
The hybrid teacher: an added value for a business, students, and education
"Who doesn't like to share their experiences with young people who will shape our future? We just need to find each other" says Ella Hueting.
Support us!
Innovation Origins is an independent news platform that has an unconventional revenue model. We are sponsored by companies that support our mission: to spread the story of innovation. Read more.
At Innovation Origins, you can always read our articles for free. We want to keep it that way. Have you enjoyed our articles so much that you want support our mission? Then use the button below: