Gerecycled plastic dat ingezet wordt als grondstof voor nieuwe verpakkingen © Umincorp Polymers
About Umincorp Polymers BV
Founders: Jaap van de Hoek and Jelle Sernee
Founded in: januari 2022
Employees: 30+
Money raised: -
Ultimate goal: to recycle as much household waste as possible and make it circular.
The ever-increasing amount of plastic being produced poses a major problem for our planet. According to the Plastic Soup Foundation, about 3 percent of all plastic that is produced annually ends up in nature. And that is really quite a lot. Whereas in 1950, two million tonnes of plastic per year used to be produced, that figure reached 368 million tonnes in 2019. In fact, that number is expected to nearly double to 600 million tonnes by 2025.
Recycling company Umincorp has been trying to roll back that growing number for more than a decade. Last January, a subsidiary was formed in the Dutch city of Rotterdam to bolster this mission: Umincorp Polymers. The company won an innovation award for an innovative technology it uses for its recycled fruit trays. Out of that, they gained Albert Heijn as their first client. Both the jury and the audience of the 2022 Stichting Afvalfonds Verpakkingen Awards 2022 (Dutch Packaging Waste Fund Foundation Awards) judged the method of Umincorp Polymers to be the most promising within the packaging industry. In this instalment of Start-up of the day, operations manager Arjen Wittekoek talks about the new method.
How do you go about your work in both companies?
"We receive plastic household waste from waste sorting companies. Once it reaches us, we first start making the waste smaller by shredding it into chippings about 1.5 by 1.5 centimeters in size. We then clean it completely: with cold temperatures, with hot temperatures, and with special processes so that, for example, glue residue can be removed. We throw the remains into our machine and then the various materials of the plastic are separated and divided into four types, irrespective of the different colors. We do this because one plastic product can be made up of different types of plastic. For example, a shampoo bottle is often made of a different material than a bottle cap. This is how we can recycle 85 percent of the plastic."
What do you do that is different from the parent company Umincorp?
"Basically, we are still doing much the same thing as Umincorp at this point, but we are gearing up for the next step in the recycling process. At Umincorp, plastic household waste is ground into coarse chippings and that's where it stops. The chippings are delivered to packaging manufacturers and they then turn them into new products. We are going one step further: we have developed a process to turn the chippings into a raw material that is almost as good as an unused piece of plastic. By doing this, we are taking on some of the work of packaging manufacturers."

"During this process, we concentrate on recycling PET plastic. You've likely seen that name on a soda bottle because a lot of bottles are made from it. It is one of the most widely used packaging materials within the food industry. PET drink bottles have been recycled for years, but for the rest of PET plastics, this is still something completely new. So that's where we saw a gap in the market. We currently employ about 30 people. Next month, when we start scaling up production a bit, our staff will be between 40 and 50."
What problem are you trying to solve?
"We want to make the world a bit better by fighting climate change. As much as 75 percent less CO2 is emitted from recycled plastic than from plastic that is incinerated. Plastic that is not recycled is either burned or ends up in nature. Of the plastic produced globally, only about 5 percent gets recycled. So, there is still plenty of ground for us to cover. We see ourselves as the Tesla of the packaging industry: where they are the accelerators of sustainable mobility, we are the accelerator of the circular economy."
What kind of challenges do you come up against?
"Because the way we work is so new, it can be difficult to find experienced staff. We basically have to train people ourselves. Also, the sorting process is still quite tricky. If proper pre-sorting has not been carried out, it disrupts the process. We sometimes find T-shirts, shoes, or soccer balls among the plastic.
"We are very happy and proud that we won Albert Heijn over as our first client, but it did take two years before they were convinced of the way we work. Some large companies are afraid of image damage if they do business with us. As in, they don't want to be seen as a company that sells 'dirty' or 'second-hand' packaging material. In fact, if you look very closely, you may notice a slight color difference in the recycled plastic. That's not dirt, but Albert Heijn wondered if customers might think that."
How did you manage to convince Albert Heijn in the end?
"We first made plastic fruit trays for them as a test product. They put these in the stores without announcing this to customers to see how they would react to the change. No complaints whatsoever were received and it turned out customers hadn't even noticed. This is not surprising, because the color difference is so small that only we notice it. About 40 percent of the trays are made of recycled plastic: that's a huge improvement – from 0 to 40 percent. We hope to raise this percentage in the future, but it's difficult at the moment."
Smarter packaging design helps consumers sort waste better – Innovation Origins
Smarter design of food packaging helps consumers sort waste better, as per research conducted at the University of Boras.
What makes it difficult to raise that percentage?
"There is possibly a new law coming that could get in the way of our goals. In it, food safety plays a big role. In short, the law could stipulate that recycled plastic cannot be used for food products ever again. We think this is nonsense: we have done a tremendous amount of testing and the materials are genuinely clean. People forget that plastic is made from petroleum: as if that's such nice stuff. With that 40 percent, we are in compliance with that possible change in the law. In the trays, the fruit lies against the new plastic, that is, the other 60 percent of its composition. So it doesn't come into contact with the recycled part."
What do your developments mean for the future of the packaging industry?
"We are the first recycling company in the Benelux that can reproduce such a high percentage of PET plastic. This is why Albert Heijn wants us to make more packaging products than just these fruit trays. We hope to have the factory up and running by the middle of next year and start manufacturing in large quantities. We mainly want to cater to the food sector but are also in talks with cosmetics manufacturers and a large retailer of plastic storage containers. We're confident about the future."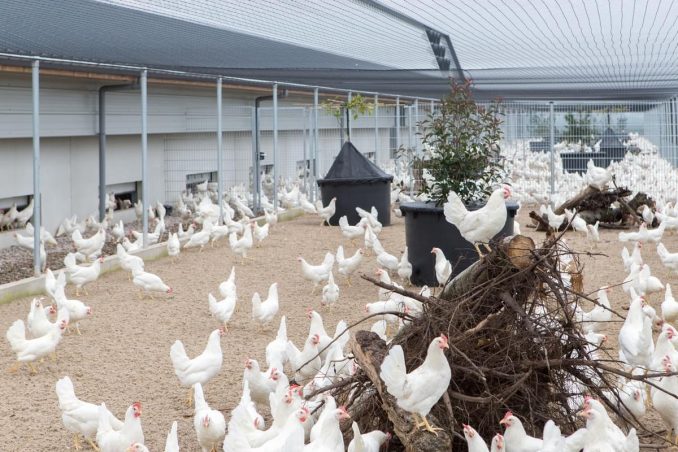 Be sure to read other instalments in this series. Each day, Innovation Origins spotlights a start-up
. Read them all here.