© Pixabay
Gamma irradiation affects the antioxidant activity of bee products in different ways. When natural products are irradiated, gamma rays can cause a change in the antioxidant activity with positive, negative, or no effect. The irradiation process may also affect non-phenolic antioxidants such as vitamins, sugars, and amino acids, the Bulgarian Academy of Sciences (BAS) writes in a press release.
Dr. Ralitsa Mladenova from BAS conducted the world's first studies on the effect of gamma radiation on the antioxidant activity of bee products. She carried out observations on bee pollen, bee bread, royal jelly, and propolis. They have high nutritional characteristics and are considered functional foods due to their high content of bioactive substances.
Gamma irradiation with doses of up to 10 kGy has been shown to cause no changes in the nutritional quality of the product and no harm to the health of the consumers. Studies show that oxygen-centered radicals are generated in some bee products, and their concentration increases with increasing applied radiation dose. Therefore, it is necessary to control the radiation treatment process.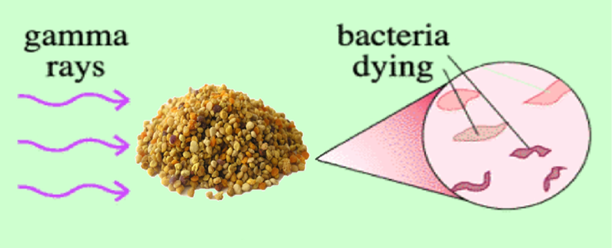 Dr. Mladenova found that ionizing radiation leads to a change in the polyphenolic content which is responsible for the antioxidant properties of natural products. The phenolic content varies from bee product to bee product. It also depends on the plant source and climatic and environmental factors because they affect the biological properties of bee products. As a consequence, high molecular weight phenolic compounds are de-structured into one or smaller structures with different antioxidant properties.
In order to preserve or improve the antioxidant properties of bee products, it is necessary to optimize the irradiation dose for each individual batch.
ApisProtect allows remote monitoring of bee colonies
Honey bees pollinate 80 percent of all flowering plants in the world. This means that they highly affect the production of the food we eat. In fact, much of the food is pollinator-dependent.
Selected for you!
Innovation Origins is the European platform for innovation news. In addition to the many reports from our own editors in 15 European countries, we select the most important press releases from reliable sources. This way you can stay up to date on what is happening in the world of innovation. Are you or do you know an organization that should not be missing from our list of selected sources? Then report to our editorial team.