Ninety people from different backgrounds, nationalities and ages gathered for the second edition of Bliksem en Donderdag this week at Kazerne. Bliksem en Donderdag is a new international podium where designs, concepts, ideas and dilemmas are shared, tested and accelerated in front of an enthusiastic, responsive forum.
This series of Bliksem en Donderdag (a play on the Dutch words for Thunder and Lightning) has been inspired by the famous "boterhammensessies" (sandwich sessions). They took place in the 1960's at the Philips Natlab Research Labs at Strijp-S. During these informal sessions, lab employees shared research and ideas – something unusual in an era of guarded industrial secrets. They discovered that innovation goes much faster when ideas are shared at an early stage. And great ideas develop when you involve people from very different backgrounds.
e52 captured the evening in fifteen photos.
(Interested in joining Bliksem en Donderdag? The next edition is planned for 16 June)
Moderator Koen Snoeckx (director of Baltan Laboratories) welcomes the audience.
Kick off by Julia Veldhuijzen van Zanten, co founder of LifeSense, the company that developed Carin (underwear that helps women exercise their pelvic floor muscles).
Juliet Gagnon – writer, storyteller and founder of Watershed – shared her plans for a radio/podcast/listening festival in Eindhoven. Planned for March 2017.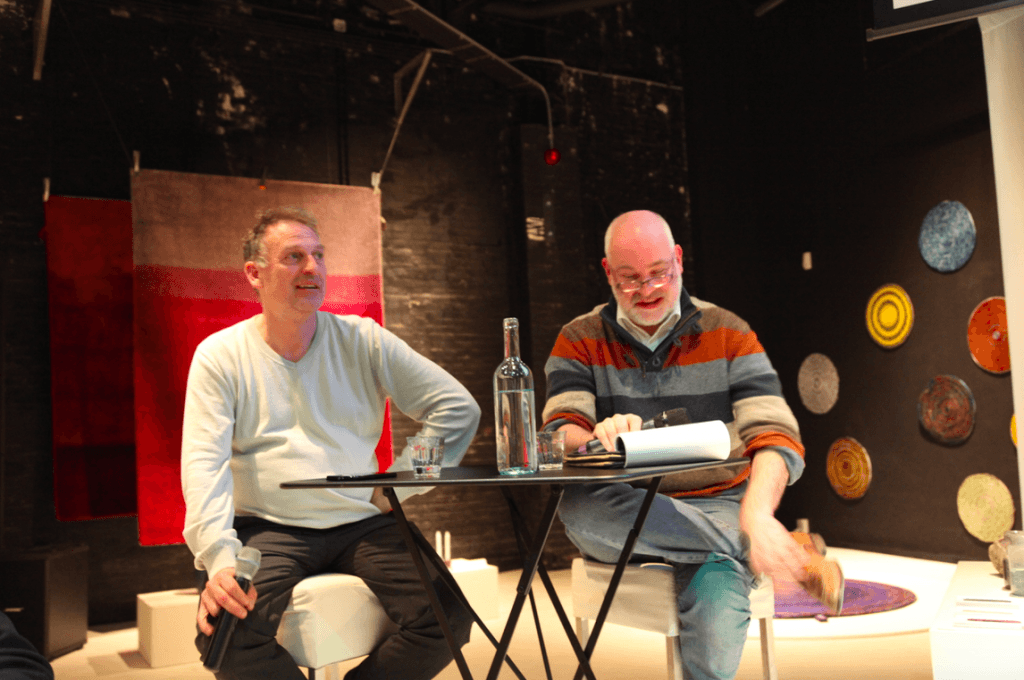 'Statler and Waldorf' share their opinion (on the left: journalist and curator Jeroen Junte; on the right: innovator and entrepreneur CeesJan Mol).
Sander Veenhof asks for input for his App Here Now, a crowd-sourced app recommendation engine for social and story-based apps on location.
An active audience responding to the pitches.
Isaac Monté of The Art of Deception explores a future where transplanted organs would be manipulated for aesthetic and fashion purposes.
Bliksem en Donderdag also offers room for spontaneous pitches from the audience, like Cristian Boscheri does. The sustainable energy engineer co founded wedoWe and also teaches breakdance to underprivileged communities around the world. For his next project he is looking for a documentary maker to join him on his trip.
Daniel de Bruin, a graduate from HKU University of the Arts Utrecht, on his Neurotransmitter 3000. A self built machine that responds to his own biometric data.
Kavitha Varathan of Expat Spouses Initiative is looking for companies to join the network. Julia Veldhuijzen van Zanten jumps up to share her experiences. Her company got connected with an expat spouse through ESI. She is now working as a CFO for the organization.
Govert Flint on his graduation project Creatures With Creations & Their Segregation Of Joy.
Drinks!
Bliksem en Donderdag is organized and supported by VPRO Medialab, Baltan Laboratories, TU/e and High Tech Campus.