De Cottbuser Ostsee vanaf een uitkijktoren. Foto Maurits Kuypers
In Germany this summer, you can travel on regional public transport for 9 euros per month. Innovation Origins is seizing this opportunity to visit a number of future-proof projects. In this edition, we travel from Cottbus to Bitterfeld-Wolfen.
A gigantic wide open plain encompassing a few small lakes and in the background, the Kraftwerk Jänschwalde, the third largest power plant in Germany. That is the view from the 31-meter high tower overlooking the "Cottbuser Ostsee".
Around the tower, people are coming and going to see how this gigantic project is progressing. The floodplain is a former brown coal mine that is going to be filled to the brim with water. The power plant in the background is still largely supplied with brown coal (lignite) from the surrounding area.
It is not a particularly good power plant. The monstrosity has a capacity of 3,000 megawatts and emitted an estimated 15.2 million tonnes of CO2 in 2021, which is actually not that bad as it once was. Because according to the owner of the plant, the company LEAG, that figure was even as high as 24 million tonnes in 2012, which put it in seventh place worldwide that year where emissions are concerned.
Climate killer
In other words, it is a climate killer, and one that is running at full throttle again at the moment on account of the war in Ukraine.
In a few years' time, the white smoke should be gone for good. Vacation homes will be built here along the shores of the lake. Cottbus is gaining a whole new neighborhood. It will boast beach promenades, bars, hotels and harbors. All the amenities of a seaside resort.
However, things are not that far along yet. Kathi Gerstner, the LEAG spokesperson, says that filling up the mining pit with water poses a major challenge. This will take years, with much depending on the weather conditions.
Water from the Spree River is scarce
"When we flood the Cottbuser Ostsee, we are largely dependent on the Spree River," she goes on to explain "The water level in the river has to remain above a certain level. This is because it is also a very important river for Berlin, inland shipping and other cities further downstream. Which means that whenever there is a lot of precipitation, it flows faster than when it is dry."
The process of filling the Cottbuser Ostsee involves a network of canals and locks that can be opened and closed. Gerstner assumes that sometime in the middle of this decade (around 2024-2025) the process will be completed. It will not be water fit for swimming by then. That will take a few years before the danger of slippages has passed and the water quality is good enough for plants, animals and people.
Germany commits to hydrogen and digitalization for a greener Europe – Innovation Origins
What are countries spending the money from the corona recovery fund on? And which strategies are they using to tackle the climate crisis? This week: Germany.
Largest artificial lake in Germany
But what if climate change means that there is hardly any rain? Gerstner assures us that the artificial lake will still be built even then. It will only happen a lot slower because most of the water will have to come from groundwater. "The river is important because running water makes for better water quality," he adds.
Artificial lakes are not unique to this region, but the Cottbuser See is to date the largest German lignite mine that is being transformed into a swimming paradise. What's more, it is the first project of its kind for LEAG – an energy company owned by the Czech EPH Group.
A total of 250 million cubic meters of water is needed for an area covering about 19 km2. The cost is estimated at 300 million euros. The lake will be more than 30 meters deep in some places. That is, if all goes well, because there are critics who believe the project will never reach its full size as a consequence of climate change.
Network of artificial lakes
LEAG can, nevertheless, draw hope from other projects in the former GDR. Lusatia – the region in which Cottbus is located – is like a big cheese full of holes, so to speak, with old mines everywhere that have been filled with water.
The Lausitzer und Mitteldeutsche Bergbau-Verwaltungsgesellschaft LMBV has been overseeing this process for two decades. In addition to the Spree, water from the Neiße and Schwarze Elster rivers is used for this purpose in Lusatia. Many of the lakes are connected to each other by canals, thereby forming the Lausitzer Seenland. In total, more than 30 artificial lakes are in the area, which are spaced at a maximum of 80 kilometers from north to south and 40 kilometers from east to west.
Besides Lusatia, there are also former mines in another part of Brandenburg, Saxony and Saxony-Anhalt that are being given a new life. In this case, we are referring to the Mitteldeutsche Braunkohlerevier. The largest artificial lake to date is in this region. That is the Geiseltal Lake, in the vicinity of Leipzig, spanning an area of 18.4 km2.
Goitzschesee
Another large artificial lake – which is already ready for tourism – is located near Bitterfeld-Wolfen, two towns in Saxony-Anhalt that have grown together with a great deal of chemical industry. Back in the GDR era, this was considered a kind of "Todeszone" (death zone) with stinking air and dead rivers. Industry has been nestled there since the nineteenth century. This makes it one of the oldest and largest industrial areas in Germany, where lignite has always played an important role as an energy source.
But that is a thing of the past. In the Mitteldeutsche Braunkohlenrevier (Germany has a total of four lignite mining areas), only slightly south of Leipzig are two lignite mines leftthat are still active. Nowadays, the Goitzschesee is located near Bitterfeld.
Osprey and otter
At this lake, you can also climb a lookout tower. Unlike Cottbus, the water here is clear and the beach is packed with people. There is a marina and lots of vacation homes. The rapid development of the Goitzschesee is partly due to a major flood that took place in 2002. This was a disaster for the residents of Bitterfeld at the time, but it was good for the lake because it was instantly filled with water from the Mulde River.
When you go on a cycling tour, there is a good chance that you will see rare birds. You can spot cranes, ospreys, otters and beavers. The fish stock also seems to be pretty good, with carp, pike, catfish, eel, perch and zander, among others. A webcam follows the comings and goings of a family of ospreys live. In a nutshell, nature has really come into its own here.
Click here for a link to the osprey webcam.
Ferropolis festival grounds
Just a little to the northeast lies another transformed brown coal mine where they have left the machinery in place and now use it as the setting for the "Ferropolis" festival grounds. This "city made of iron" hosts music and sporting events throughout the summer, like Melt and Splash.
And all that industry, is it still there?
Sure, you will cycle past an endless stream of factories between Bitterfeld and Wolfen. Except they no longer stink as much as they used to. The Chemical Park Bitterfeld-Wolfen is home to more than 360 companies.
Lithium from the Dutch company AMD
Among them are also very modern industries. For example, one of the largest lithium refineries in Europe is currently under construction at the chemical park. The Dutch Advanced Metallurgical Group AMG is investing 120 million euros in a processing plant for lithium hydroxide (LiOH).
The raw material is extracted from an AMD mine in Brazil. A production of 20,000 tonnes of LiOH per year is planned, which should later rise to 100,000 tonnes.
AMD CEO Heinz Schimmelbusch said in May this year, when the foundation stone was being laid, that he expects that the demand in Europe will be around 600,000 tonnes by 2030. LiOH is a key component in batteries for electric cars.
Solar Valley is not dead yet
On the very outskirts of Wolfen is a business park that is wholly geared towards the industry for solar cells, solar panels and everything connected to them.
It is a business park that has endured enormous ups and downs in recent decades. Shortly after the credit crisis of 2009, this was the global center of the solar panel industry. The German government invested heavily in this area. In 2012, 3,000 people were working there. But after that came the great downfall.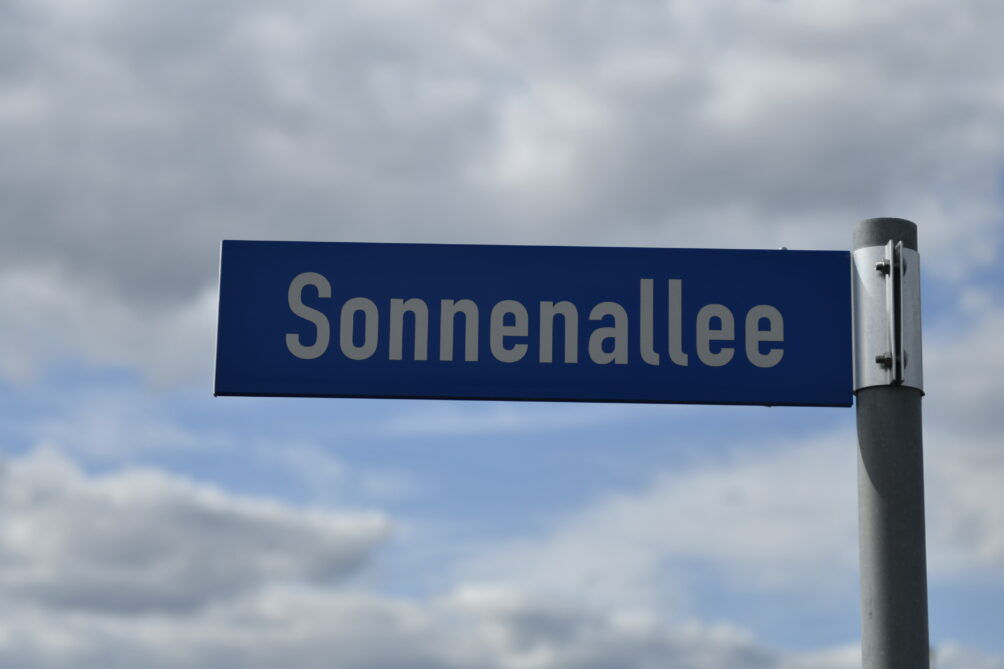 Then China flooded the market with its solar panels. At the same time, the German government scrapped a lot of its subsidies. Many companies in "Solar Valley" could not withstand that and one by one went bankrupt. Calyxo is one of the last companies to go out of business in 2020.
Some people blame the government for not intervening enough to stem the dumping of solar panels by the Chinese. In reality, there are only a few solar companies left at the "Sonnenallee". The largest, QCells, is in South Korean hands (Hanwha) nowadays.
Solar panels from Meyer Burger
Which is actually not enough to warrant calling the business park Solar Valley. Yet there is hope that it will earn that name once again. This is thanks to the Swiss company Meyer Burger Technology. During a working visit at the end of July, the German Minister of Economic Affairs Robert Habeck enthusiastically called it "a shot at a comeback for the solar industry". Habeck: "We have let this industry go bust, but we can breathe new life into it."
The special thing about Meyer Burger is that they span the entire chain. The machinery is developed in Switzerland. The solar cells are made in Bitterfeld-Wolfen ( a process somewhat similar to that of computer chips) and the solar panels are fabricated in Freiberg (a mining town between Dresden and Chemnitz).
Protection against Chinese thieves
The company used to sell its machinery to Chinese companies who then used them to manufacture in China, but Meyer Burger stopped doing that because the turnover and margins were getting smaller and smaller. Plus, Meyer Burger accused the Chinese of stealing know-how. Today, the company keeps its technology under wraps.
The company in Freiberg has the capacity now to make 2,700 modules per day at a cost of approximately 200 euros each. According to the company, their panels yield 20 percent more per cm2 than an average solar panel. According to the company, most of the work in Bitterfeld is done by robots.
Film reels from Agfa and Orwo
On my way back to the train station, I cycle past Wolfen Town Hall and the Film Museum. Both play a major role in local industrial history.
The town hall used to be the headquarters of Agfa, a company originally from Berlin that found space for its expansion in Bitterfeld-Wolfen.
A slightly older generation will no doubt remember Agfa for its film rolls. The company was also the inventor of color film in 1936. After the Second World War, Agfa shifted to the West and film rolls were manufactured by the East German company Orwo in Wolfen. Together with Fuji and Kodak, these were the big names in the world of film rolls in the last century. The museum (temporarily closed) tells the history of the Filmfabrik Wolfen.
EG establishes itself in 1893
The foundation stone for the chemical industry's boom was laid by another Berlin company: the "Allgemeine Elektricitäts-Gesellschaft" AEG – which was the first to seek and find a production site in Bitterfeld in 1893.
Just like more cities in Germany, Wolfen had a very dark period during the Second World War. At that time, Agfa was part of a large chemical conglomerate called IG Farben, which also included BASF and Bayer. Forced laborers and prisoners from Ravensbrück concentration camp were employed in their factories in Bitterfeld.
Another subsidiary of IG Farben (Degesch) used to produce the poison gas Zyklon B (prussic acid gas), which was used in concentration camps for the largest mass murder in history.