©TU/e innovation Space
The Brainport region is an important growth engine of the Dutch economy. It is therefore very important, both for the region itself and for the country, to further strengthen this position. The fact that this not only increases the earning capacity but also makes it possible to tackle numerous societal challenges, makes that goal all the more relevant. In a series of 12 articles, Innovation Origins looks at the most striking issues within this endeavor. In this, we are guided by the research report 'Brainport at the top' that Rabobank published in collaboration with Strategy Unit. Today, in the ninth article in this series, we look at attracting, training, and cherishing talent.
With a neat 7.1, the stakeholders give a positive assessment of how the Brainport region deals with attracting, training, and cherishing talent. Still, there is no reason for a too big hallelujah: not only are there big differences in that assessment (for example, students turn out to be considerably less positive about it) but there are also a few dark clouds hanging above the (labor) market. These are related to the sustainability of this success in times of economic downturn, an impending mismatch between supply and demand, concerns about the connection of education and the work field, the problems of international and seasonal workers, and the attractiveness of the region itself.
The task of remaining attractive to existing and future employees and talents is, therefore, considerable. Thinking about solutions is already in full swing, for example within the Brainport Development labor market team. Program Director Yvonne van Hest has been following the talent streams for almost 10 years. This experience has not only yielded a lot of insights, but also a necessary amount of realism. "At the moment, for example, a lot is expected from retraining programs. In theory, this is a fantastic tool, the need for Tech- and IT-related jobs is enormous, so the more people who master the material, the closer we get to a solution. But in practice, it turns out that it's not that easy to, for example, turn a historian into a systems engineer."
Magnet Effect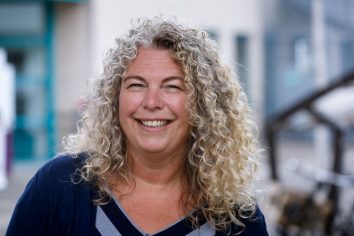 On top of that there is another challenge, says van Hest. "You would especially like to retrain people with occupations that are structurally less in need, to become professionals who are badly needed. But in many cases, it's not that black and white. By retraining a nurse to become an IC nurse, for example, you do solve a problem in the IC, but you create a new problem at the source: there is also a new vacancy for a nurse."
Gerard Zwartkruis, Director of Business at Rabobank in the Eindhoven region, sees a major challenge for the labor market in keeping the whole region attractive. "Brainport Eindhoven has the impact of a metropolis but the appearance of a provincial city. The magnet effect of this city must be increased. It's not for nothing that the newspapers are full of stories about solutions to housing needs and other aspects around important facilities. Fortunately, there are plenty of plans now, but for them to be carried out, we will need decades. The question is whether we can afford that much time."
"We have a unique combination at our disposal here: smart heads and golden hands. We invent it and we make it."

Gerard Zwartkruis
Zwartkruis also thinks that the "unique ecosystem" can be exploited even better. "We have a combination at our disposal here that you don't see anywhere else: smart heads and golden hands. We invent it and we make it. This is visible in all those top companies, but also in events like the Dutch Design Week, the Dutch Technology Week, Glow, and the Maker Faire. If you were to put a kind of skewer through it and make elements from it visible for the whole year, that would be an important element in itself for retaining and attracting talent. Especially if you know how to combine it with appealing other recurring events such as the Robot Football World Cup, a local Solar Challenge, or new activities around esports or gamification. What's more, let our corona experience be an inspiration for putting it all into a hybrid form: it can provide an innovation that can really bind talents to the city."
Internationals
The stakeholders for the Rabobank survey indicate that it would be good to attract fewer talents from abroad and instead call on local resources. "Internationals are less aware of how they can contribute to the residential and living climate of the Brainport," conclude the researchers. "There is too much focus on attracting foreign talent. Local talent is insufficiently involved and retained." Yet, it is an illusion to think that we can manage without input from outside the region, says Yvonne van Hest. "Sufficient influx and foreign talent also remain important, you simply can't retrain everyone. The higher the required level, the more difficult that becomes. Retraining can and should certainly help, but more structural solutions are needed for the underlying problem. Work experience also plays a role, which is why companies keep looking for foreign knowledge workers."
"Sufficient influx and foreign talent also remain important, you simply can't retrain everyone".

Yvonne van Hest
Talent pool and Employeneurship
The researchers see an obstacle in the connection between education and the business community: "The low influx of technically-skilled (MBO) personnel is an industry-wide problem. Following on from this, there is a differentiation between the skills that are covered during training and the actual skills that are required for a job. Closer cooperation between education and business could offer a solution to this problem." As is already happening at Brainport Industries Campus (BIC) and Automotive Campus Helmond, also thanks to educational institutes Fontys and Summa. "And not only there", adds Zwartkruis. "You see these kinds of initiatives emerging everywhere, including at the specific company sites. Take Sioux, NTS, and ASML; they are all building their own campuses with a focus on training and education. I very much believe in combining training with SMEs. It makes the threshold a lot lower, both ways". The Rabo Director points out that, despite the Corona impact, it is important to continue to invest in educating and training people. "A good example of this is TMC, the technical service provider from Eindhoven, which is fully committed to continuing to develop its pool of technicians. In great wording, they call it employeneurship".
Another frequently heard solution is to create a Brainport-wide talent pool. One of the interviewees for the research: "Ultimately we see that we are competing within the same talent pool. If we want to grow, the talent pool has to be developed together and kept big enough to serve the companies in the Brainport ecosystem". Zwartkruis endorses the principle but points out that times (and needs) are different now than they were before. "For the port of Rotterdam, such a pool of workers worked excellently: it ensured that the dockworkers could rotate between companies. It would be fantastic to apply that here as well. But bear in mind that the need for expertise is different and fluctuates more. That means that retraining and refresher courses have to play an important role anyway."
"A platform that can link students to the business world could be very useful."

Sanne van Kouwen
Brainport Connect
The students who participated in the research think that a more specific elaboration of such a pool could work. "It could be useful in the form of a platform that could link students to the business world," explains Sanne van Kouwen. As part of her Master in Innovation Sciences, she has focused on the position of students in the region. "Students indicate that the start of Brainport Connect is positive in that respect, but that they still miss the link with the business community. There are good initiatives, such as Innovation Space at the Eindhoven University of Technology, but only for a select group of students. The large OEMs are also visible, but that is much less the case for SMEs. It would be a great help if Brainport could somehow stimulate this structurally, for example in the form of a 'Brainport traineeship', as one of the students suggested. In this way, you turn a lot of individual initiatives into something big and substantive." What Van Kouwen also noticed is the fact that Brainport should become more visible outside of Eindhoven. "For this research, we also had conversations with students at the Delft University of Technology and they really had no idea what Brainport actually is. That is such a shame!"
Five-legged sheep
Yvonne van Hest also has a useful suggestion for all the employers within the Brainport region: "Stop looking for that five-legged sheep for every vacancy. Be open to other tastes, such as that interesting international student who unfortunately doesn't speak good Dutch (yet), or the motivated re-educated candidate who is missing a few diplomas. Or think about redesigning your internal processes, for example through automation. Now it seems that many companies have had their vacancies open for a relatively long time, while a sheep with three or four legs can also function very well."