About Decarbonizing Europe
What does the Recovery and Resilience Facility entail?
The European Commission has made available an amount of 723.8 billion euros
to combat the consequences of the corona crisis and make Europe greener, cleaner, and future-proof. All member states have the opportunity to submit plans for disbursement from this Recovery and Resilience Facility.
Who is participating in the Recovery and Resilience Facility?
All the member states of the European Union. All member states? No, The Netherlands has not submitted plans as yet. Although, it became public knowledge at the end of January that hard work is going on behind the scenes in the Netherlands to secure some of those European billions.
What do the member states have to spend the money on?
At least 37 percent of the funding should be used for making their countries more sustainable and 20 percent for digitalization. In addition, there are also other key points:
– Smart, sustainable and inclusive growth
– Social and territorial cohesion
– Public health, economic, social, and institutional resilience
– Policy for future generations
What else is happening?
Apart from that, the EC has identified several so-called flagship areas:
– Power up
– Renovate
– Recharge and Refuel
– Connect
– Modernise
– Scale-up
– Reskill and upskill
What is Innovation Origins planning to do?
Over the next few months, we will be focusing on the implementation of these plans. We will be outlining what each country is doing to reduce CO₂ emissions, and we will be reporting on innovative projects. Infographics will allow you to compare the member states' efforts with each other.
In Amsterdam New West, a lot of hard work is being done to gradually make way for central heating boilers and natural gas to replace thermal heating from the Sloterplas lake and the installation of solar panels. That is quite a daunting task, give that the district is very diverse. East of the Sloterplas lake are some of the most expensive neighborhoods in Amsterdam. A kilometer away is the Jacob Geel neighborhood where forty percent of households are struggling with poverty.
Not a conventional energy cooperative
Therefore, for the Westerlicht energy cooperative, the main challenge is to get everyone on board with the energy transition. "We are not really a cooperative. At least, not a conventional one," Jurgen van der Heijden, chairman of the organization, says setting the record straight. As a sustainability consultant and as the former director of Energie Samen Noord-Holland, he is well-versed in the energy world.
"Most cooperatives have a coverage area of about ten to twenty thousand people. Some 180,000 people live in New-West; that's too many for one cooperative." Westerlicht is a federation of ten initiatives in New-West, all with their own coverage area. Westerlicht also has a very close collaboration with the local community center, the Ru Paré Community. "Most energy cooperatives don't have that kind of partnership, but if you want to be active in a neighborhood like New-West, where a lot of nationalities and people from different social classes all live together, it is absolutely essential."
The Netherlands, land of energy cooperatives
The Netherlands is teeming with energy (cooperatives). The counter stands currently at seven hundred. That is quite a lot compared to other EU countries. There are no figures (yet) on the number of energy cooperatives in the European Union, but in the ranking of the number of energy initiatives per country, the Netherlands holds second place after Germany. A good thing, because local initiatives are crucial in order to be able to accelerate the energy transition, That's the conclusion drawn by Gerard van Bussel, emeritus professor of wind energy at TU Delft in this article about the Netherlands in our Decarbonizing Europe series.
Community center as a central hub
The board of Westerlicht is made up of volunteers, but two project coordinators have been appointed who work (part-time) for the federation. One of them is Marita Bon. She cycles from her home in Amsterdam East to New-West four times a week. She already did that before she started working for Westerlicht in 2020, because she also works in the Ru Paré community center as a community builder. So she already knew the neighborhood fairly well.
As project coordinator at Westerlicht, it is Bon's job to liaise with all the residents who are taking the lead in projects in New-West, in order to map out what is happening in the district where energy is concerned and to bring people into contact with each other. "The aim is for different initiatives to be able to learn from each other and lean on each other."
Green Roofs Project
During her work as a community builder, Bon saw that a lot of people wanted to do something with sustainability. Not just for themselves, but also for their neighbors. "That's how Westerlicht was formed in part from the community center," she says. What she enjoys most about her work is the challenge of finding ways to involve all the residents of New-West in the energy transition. Experience has taught her that you shouldn't immediately launch into stories about a heat source from the Sloterplas. "It doesn't work to immediately start talking about 'getting rid of gas'. It is much better to start with an entry-level model. Like the Green Roofs project."
The Green Roofs project was started in the Noorderhof neighborhood, where there is an issue with rainwater. When there is heavy rainfall, the neighborhood has problems with flooding. Residents are also suffering more and more from heat stress during hot summers. Green roofs are an affordable and relatively simple solution to these problems. They temporarily retain water and provide cooling.
Coaches and fixers
In the Jacob Geel neighborhood, Bon herself started a project in conjunction with the !WOON foundation, an organization that provides advice and information on energy consumption. In the course of her work as a community builder, she comes into contact with lots of people who really need help. "We talk about all kinds of things: administration, sports subsidies, you name it. The people who knock on our door often live in poorly insulated houses. We ask more questions about this during the consultation meeting. Whether they can manage to pay their energy bills and if they can cope on hot days. We can then offer to send out an energy coach. They give tips on how to use energy more efficiently. They also have materials with them, such as LED lamps and draft strips to make small adjustments."
Decarbonizing Europe – The road to a cleaner continent – Innovation Origins
How is the money from the Recovery and Resilience Facility being spent? Find out in our new project Decarbonizing Europe.
In the meanwhile, the Fixbrigade has also joined the project. This initiative helps people to conserve energy by making small adjustments in their homes. From the beginning of July, residents in New-West can make use of the service. For people with limited finances, this service is even free. "They go one step further than the energy coach -they don't just take materials, they also fix things straight away."
Duurzaam Oostoever
Duurzaam Oostoever is an independent cooperative that falls under Westerlicht. 'On paper', Matthijs Elzinga is chair of the energy cooperative. "In reality, I am a resident of Oostoever who, together with other neighbors, is committed to creating a sustainable heat supply in our neighborhood."
The plan of the cooperative is to use the Sloterplas as a heat source for the neighboring housing. Generating heat from surface water is known as 'aquathermy'. This heat is stored underground and transported by pumps through a pipeline to a collective heat plant. That power plant ensures that the temperature is right and delivers the heat to homes via the heat network. Elzinga: "Waternet has estimated that there is at least enough energy in the Sloterplas to provide all the neighborhoods around the lake with energy."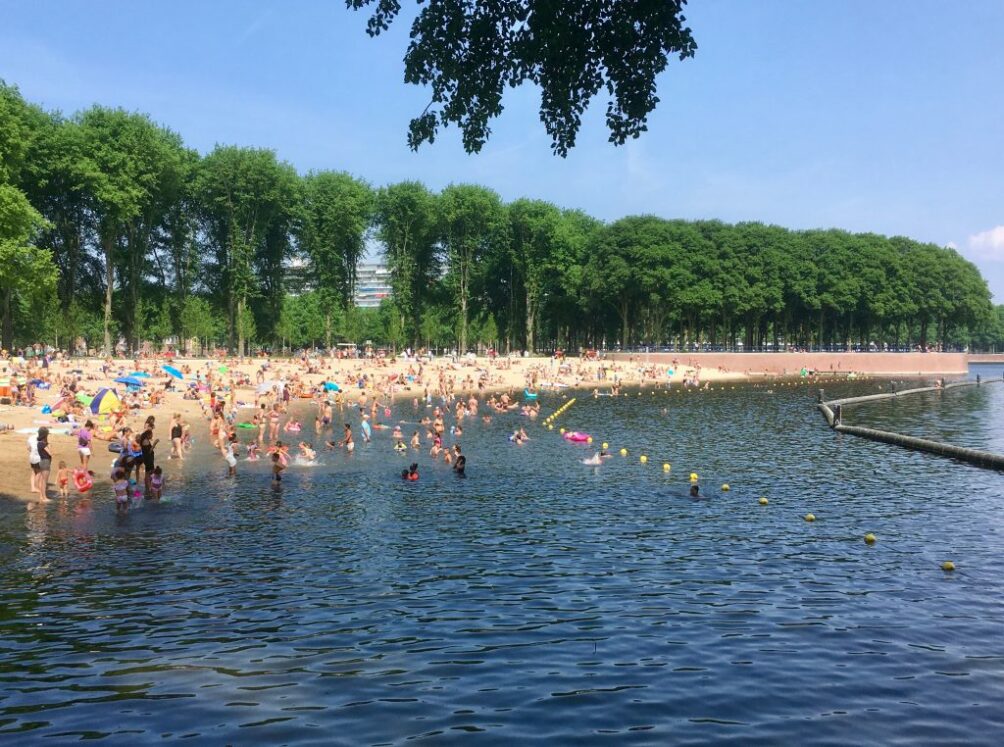 Social process
Generating collective heat from the Sloterplas lake may have been the starting point, but that idea couldn't have materialized just out of thin air, Elzinga goes on to explain. "Of course, the technology is important and you have to have a sound business case. But it is primarily a social process. You have to make sure you get local residents on board with the idea that we are able to collectively heat our homes."
ISo, in 2019, it began with door-to-door campaigns and the collective purchase of solar panels from an installer in the area. The most important approach? Building support and raising awareness around sustainability. "We have already managed to do that; we have the wind in our sails thanks to residents in the neighborhood."
Your own heat company
The cooperative has just completed an exploratory study into the potential for a collective solution and which technology is most feasible. "The first steps, creating scale and momentum, take the most effort. Once you have that, it's relatively simple. Then you go from a volunteer to a professional organization that runs on experts and expertise. A volunteer can only do so much."
Van der Heijden applauds Duurzaam Oostoever for setting up its own heat company. "Then you have a say on the price and on where the profits go. That is extremely important within the framework of an affordable energy transition. Energy cooperatives are sometimes accused of being elitist. Admittedly, there are people who cannot afford it, but you basically work on keeping the price of energy in the neighbourhood as low as possible. The strongest shoulders carry the heaviest loads, as they should," Van der Heijden says in conclusion.
Support us!
Innovation Origins is an independent news platform that has an unconventional revenue model. We are sponsored by companies that support our mission: to spread the story of innovation. Read more.
At Innovation Origins, you can always read our articles for free. We want to keep it that way. Have you enjoyed our articles so much that you want support our mission? Then use the button below: