Ten startups from Eindhoven have been honoured with the Gerard and Anton Award 2016. The jury of the awards thinks these ten have all it takes to follow the footsteps of Gerard and Anton Philips who, 125 years ago, formed the first truly successful startup in the region. Every day we highlight one of those startups. Today: IBIS Power
---
Here's everything on the Gerard & Anton Awards
---
Generating sustainable energy doesn't necessarily need a wind farm far into the sea. Even the city can do the job. IBIS Power proves it with their Power Nest, a system that is placed on top of buildings and which generates energy with a combination of wind and sun. "A fifteen stories high building with a Power Nest on top generates 85% of the energy it needs", says Alexander Suma. For the Top Ten Startups To Watch we visited him at IBIS Power in the Klokgebouw.
The Jury:

After years of development IBIS has finally managed to launch – and sell – the first commercial wind turbine; it's a breakthrough to use wind power in the urban environment. 
Full of enthusiasm Suma starts talking about 'his' Power Nest. "Wind is hauled and guided by a kind of funnel, which causes the flow of air to move more rapidly to the turbine. This allows the turbine to run faster and therefore be more effective. Moreover, there's a solar system on the roof, so there's benefit from every source. Power Nest produces three times as much energy solar panels would do."
Suma show some photoshopped pictures, with Power Nests on top of well known buildings. "In addition to its durability, it just looks fine. Look, it fits quite well with the building. "Last month, IBIS Power found its first customers: Rabobank Netherlands and the city of Copenhagen will start using the system . "The goal is to have ten customers by April 2017 and we are now well on the way. In the Netherlands, we are negotiating for a project in Rotterdam, and besides we are looking at opportunities in Aruba, Spain and Germany."
The first sketch?
The idea arises in 2008, when Suma was working on his PhD in Miami. When he wants to leave his appartment for a couple of days, Suma turns off his airco. "I got an angry call from the landlady: whether I had gone crazy to turn off my air conditioning? Apparently the houses start to rot because of the heat and humidity, I wasn't aware. But that got me thinking. All those air conditioners that are blowing all day in a hot city like Miami. But there's also a lot of wind over there, so I thought: what if you could use that wind to generate energy?"
Genius plan?
The University of Miami thought the plan was so brilliant that it immediately filed a patent for it. "I couldn't even inform my mother about it", Suma remembers. "At one point I wanted to present the idea in Hawaii, but I was still waiting for approval;  only during a stopover at LAX airport I received the confirmation. That was a very weird time." Suma takes a sip of his water and laughs: "I presented my plans to Governor Crist in California, he naturally had to sign a non-disclosure agreement, because the idea was still in its infancy. He said it was the first time anyone had dared to ask him something like that."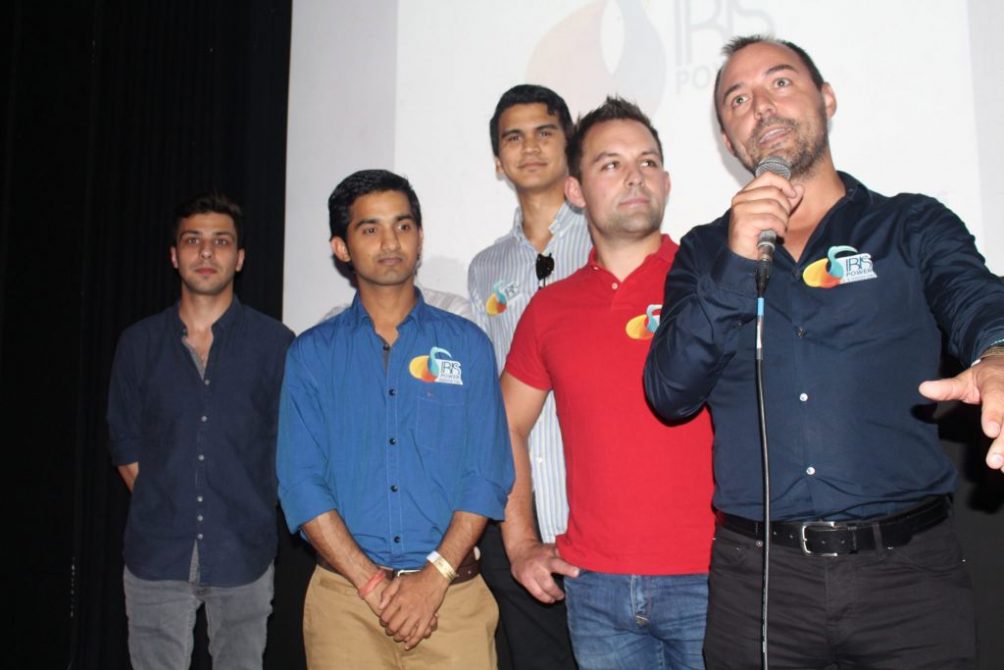 For Suma a busy time starts, he combines the development of Power Nest with writing his thesis. He is preparing an application for funding, and kicks it to the finals, but ultimately misses out it. "That was a shame, because with that money I could have made a prototype." When Suma receives a Marie Curie Fellowship grant from Europe, he decides to return to Eindhoven. Meanwhile, dr. Rossella Ferraro joined the team. The TU/e is interested in the work of the two. "At the university we were able to validate the aerodynamics of the prototype and do the a lot of testing. But at some point your job is finished at the university. That's how it goes with research: after you filed your conclusions, it's over. Then I decided to put myself in the storm and take on the challenge to set up a business of my own. Meanwhile we had won the Herman Wijffels prize, a TEDx Amsterdam Award and we had received the STW Valorisation Grant Phase II. With this money we could provide the first steps financially."
The future?
Besides looking back, Suma also likes to look ahead. "It's all going to change very quickly. You can see it for example in contractors. You have one group that wants to innovate and work differently, but there is also a group that just wants to go further in a traditional way. We are now talking with energy companies, they don't realize yet what kind of change we ignite."
Suma sees a future where energy will have a totally different place in society. In 2030, energy might even be free for all. "It is our aim to make energy available to everybody, including the poorest in the world. The second product that we want to bring to market in 2020 might offer a huge solution for areas such as the Philippines. If you build solar panels or wind turbines over there, they would all all be destroyed by the typhoons that rage the islands. We have developed a mobile power station in a shipping container, which is fully foldable. One could provide for the energy of four Dutch families with one of these containers. If a typhoon is approaching, you just fold back your system and wait until the end of the storm to unfold it again. Currently, we use this solution for a market closer to home: festivals. You often see that they have a huge energy challenge, and many of them use polluting diesel generators. That's a small contribution to change. But that's just the beginning."
Alexander Suma has a short advice for startups:
Support us!
Innovation Origins is an independent news platform that has an unconventional revenue model. We are sponsored by companies that support our mission: to spread the story of innovation. Read more.
At Innovation Origins, you can always read our articles for free. We want to keep it that way. Have you enjoyed our articles so much that you want support our mission? Then use the button below:
Donate
Doneer