© Classified
About Classified
Founders: Mathias Plouvier and Röell van Druten
Founded in: 2019
Employees: 40
Money raised: -
Ultimate goal: To show the world that there are better technologies and that we can take the bike rider experience to the next level. Make the impossible possible!
Belgian-Dutch start-up Classified is operating at full speed. The manufacturer of gear systems has once again managed to bring investors from the elite cycling world on board. Classified's technology constitutes an innovation in the field of road bike drivetrain systems. In classic bikes, the chain always has to keep making a big jump when shifting gears. This does not always work out well. Thanks to Classified's technology, you can shift gears while standing still as well as while riding. The system is also more efficient than a traditional gear shift system and does not add any extra weight. Classified is also working on applying its technology to e-bikes, as CEO Mathias Plouvier explains in this instalment of Start-up of the day.
To what extent are you making a difference for the cyclist then?
"The biggest difference is that you can shift gears when you're really cycling hard, and in a split second. You can always change gears, no matter how much power you apply, even when you're exerting yourself to the max on a mountain. Our system shifts gears much faster than existing gear switching technology (under 150 milliseconds). What's more, the system is also more efficient overall. It is technically complex, but in a nutshell, it's because we always cycle with a large chainring. Whereas a traditional system switches to a small inner chainring. This increases the force on the chain by up to 45 percent, which invariably leads to more losses in efficiency. That's why we say bigger is better."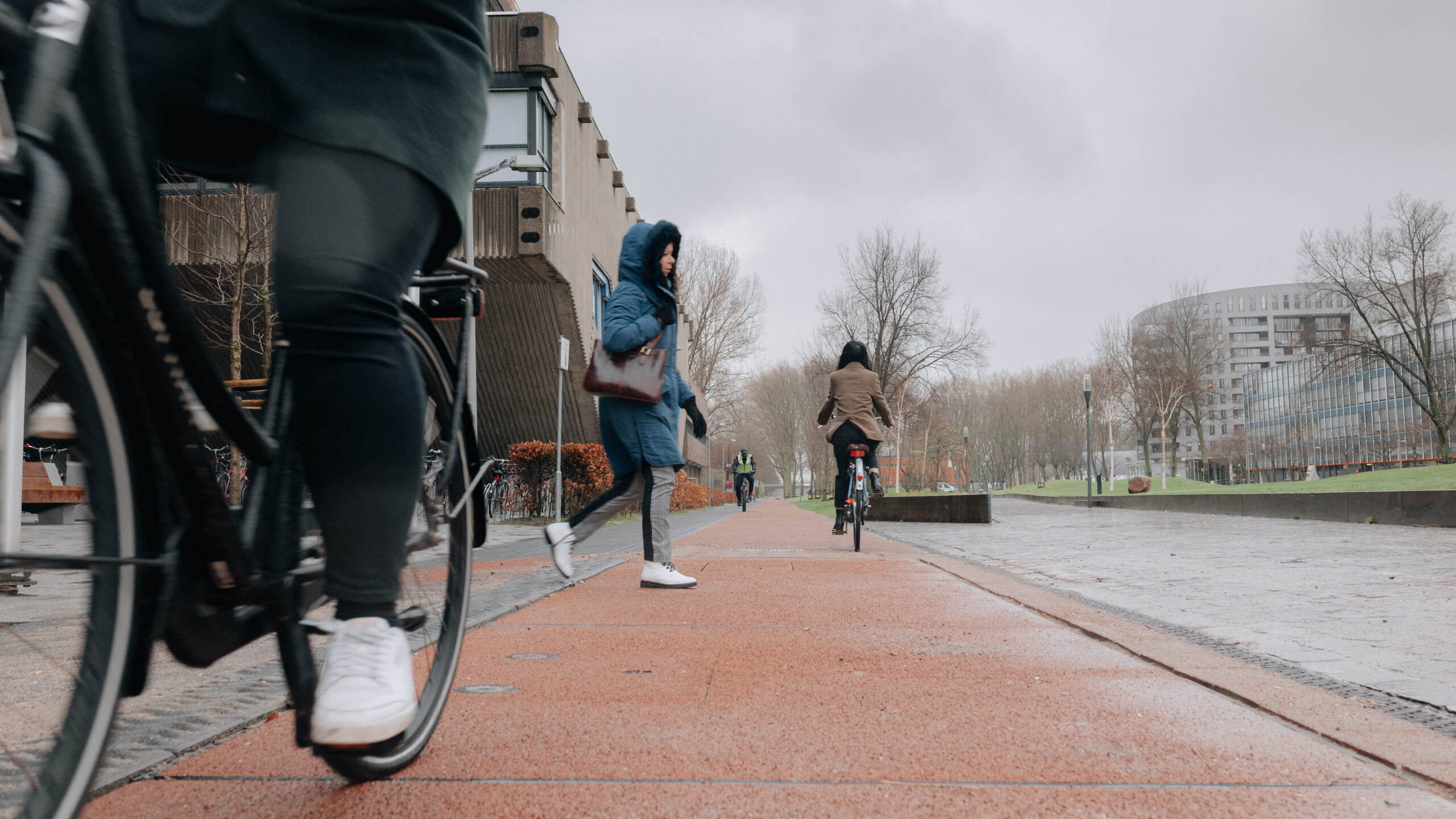 Smart bike path helps to organize future accessibility of cities – Innovation Origins
Thanks to monitoring traffic above and below ground, a bike path on the TU Delft campus is now the smartest in the Netherlands.
Have you been able to improve the cyclists's performances at crucial moments then?
"A lot of professional cyclists have won rides with our system recently, both in road cycling contests and during competitive gravel races in the USA. We are extremely proud that we are able to demonstrate what our technology is capable of over there. Of course, we also hope to become the standard in professional racing. The fact that the system is more efficient than a standard drivetrain system is an important aspect for the professional cyclist."
Do you see any other uses for your technology besides cycling?
"We are currently working hard on applications of these technologies for other segments of the bicycle industry. Apart from that, we are also developing new technologies to apply this to a broader segment of the market. Being active in cycling is not just our only goal."
"So, we also focus on mobility such as e-bikes. We're working on that quite a bit. We see a very big market there for our technology. If you want to shift gears using today's electric bikes, you need complex power circuitry to do that smoothly and silently. Our technology, which is designed to be able to shift gears under stress, is the ideal solution for that. Investors are open to the idea that the technology will appeal to as large a market as possible. We want to show that our technology is among the world's best, but that there is also a wide range of applications for it underlying that. We'd also like to reach more mainstream cyclists."
Ex-cyclist Tom Boonen is being joined by familiar faces. You have managed to bring new investors on board. Who are the other ambassadors in question?
"The last investment round was at the end of December. Then, among others, former two-time world champion and Olympic cycling champion Anna van der Breggen, but also André Greipel and Marcel Kittel invested in us. Anna van der Breggen is now team manager at SD Worx, one of the most successful women's teams. André Greipel retired from his cycling career on 1 January. Marcel Kittel recently did some sprinting for Quick-step. These are some really great names. These champions are really confident about the product. They ride around with it themselves."
Is that one of the secrets to your success, that you get famous sports people behind your product?
"We have a two very big competitors. Those mastodons control the whole market, as it were. We are unable to make sponsorship deals worth millions at that top level. We don't have that kind of money. So we have to be creative and show in a different way that our technology is better than what is currently on the market. Through a few sports celebrities who have years of experience, we are showing that our technology does deserve a place."
How is your international breakthrough coming along?
"More than 25 bicycle manufacturers assemble our products directly in their factories. We also have 300 dealers around the world, such as in the Benelux, Germany, UK, France, Spain, Italy, Scandinavia, but also Asia and Australia are joining us soon. We're also in America and Canada now. We launched our product in California in April at one of the biggest bicycle trade fairs. We've noticed that there is tremendous interest in our product. We have since opened our first dealerships in America and shipped our first goods by container."
How eco-friendly do you manufacture your product?
"Our environmental footprint is small. We are primarily catering to the European market. Our manufacturing philosophy is that we want to be as local as possible. In fact, 90 percent of our components are made in Belgium and the Netherlands. We assemble our hubs 100 percent in Belgium. That's where the manufacturing and engineering is done. We also have a part of the engineering and R&D that is done in the Netherlands at the High Tech Campus in Eindhoven."
How do you think the bicycle market will evolve further?
"Since corona, people have started to think differently about mobility and how important exercise is. And what role work plays in our lives. People also want more exercise. That's also good for the environment. We are predicting a greater uptick in bicycles in general, and e-bikes in particular. That's where people get the highest level of comfort. People are exercising more and getting more quality out of life."
Start-up of the day Archieven – Innovation Origins
Spread all over Europe, thousands of start-ups have the most innovative ideas. Innovation Origins puts them in the spotlight every day.