Last week, the electric mobility bubble and German auto industry were shocked by breaking news: Herbert Diess, the "Elon Musk of VW," was "fired" by the supervisory board.
The gloating of the commentators
The comments on the end of the Diess era were controversial, and on balance very negative about Diess. For example, the editor-in-chief of "Automobilwoche" said, among other things: "He got on many people's nerves with his slapdash rhetoric and his closeness to industry upstart Elon Musk. He makes a nuisance of himself. His supporters, on the other hand, see him as a visionary."
It should be noted that "visionary" tends to have a negative connotation in Germany. This was reflected by the bon mot of former German Chancellor Helmut Schmidt: "If you have visions, you should go to the doctor."
The German way
In Germany, there is a phenomenon unique in the world. People like to gang up on those considered unsuccessful, or who dare to break out of the mainstream and fail in the process. This also happened to Herbert Diess.
Diess is not and never has been a diplomat (nor was Ferdinand Piëch in his day, by the way). But that's exactly what ultimately cost him his job. In the end, his gruff manner and lack of social intelligence were not conducive to his relationship with the Pïech and Porsche families, unions or politicians.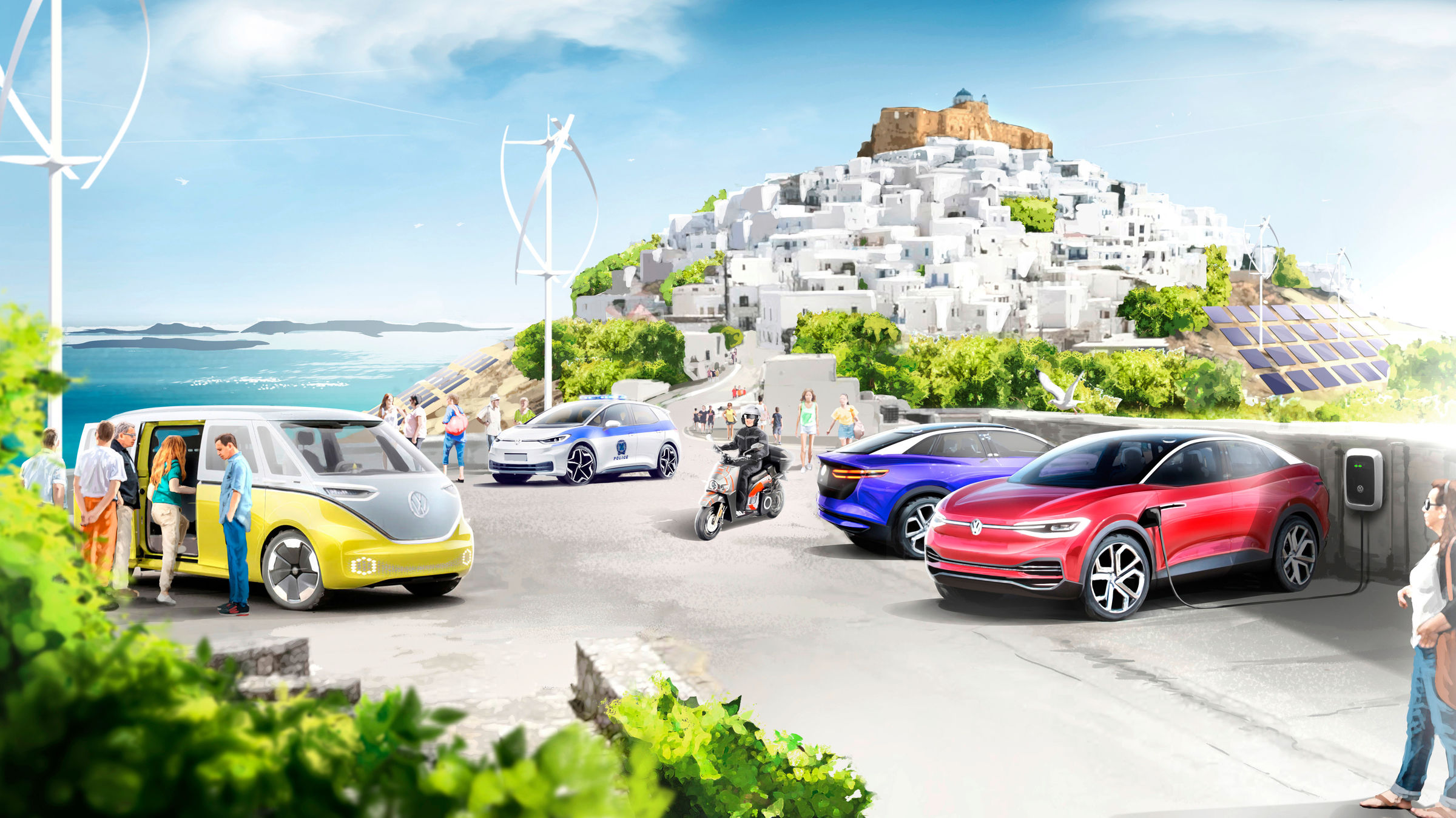 Volkswagen transforms Greek island into a model for electromobility – Innovation Origins
Within 3 to 4 years, the tiny Greek island of Astypalaia will be freed as far as possible from anything that runs on petrol, diesel or gas.
A comparison with Elon Musk?
The comparison with Elon Musk is also misleading. Because of the supervisory board, a German CEO is unable to behave like his U.S. counterpart, who cannot be stopped by anyone. As is well known, a significant share of VW belongs to the Pïech and Porsche families.
But political pitfalls are also a daily reality in Germany. You have to deal with people like Stephan Weil, the largely technically clueless Prime Minister of the state of Lower Saxony (which is a shareholder in VW, ed.), and trade unionists who like to shoot themselves in the foot just to be right and conjure up "the good old days."
Rapid transformation seems hopeless in Germany
Only the future will show whether the transformation to electromobility really is "without an alternative," even though all signs currently point to this. With his decision to go all in on the electric car, Diess has at least taken the world's second-largest OEM tanker in the right direction. But the contrasting attitude of his successor and Porsche CEO, Oliver Blume, is unlikely to ensure that the company will quickly catch up with the digital age. The deficits at VW are too great for that.
Digitization proves difficult
CARIAD, the much-vaunted digital task force, has so far proved to be a toothless tiger. Its reshuffling (and renaming) since 2019 shows one thing above all: automakers don't understand how to develop software. More doesn't mean better. And there are far too few digital luminaries in the German automotive industry. When they do exist, they migrate to places where their ideas fall on more fertile ground. In any case, the German "sheet metal benders" are still a long way from saying goodbye to the idea of the internal combustion engine.
China business and infotainment
Directly linked to this is the lackluster business in China. The Chinese are so much further ahead digitally that the infotainment system of VW's ID e-vehicle seems like a throwback to the last decade. Anyone familiar with the systems from NIO, XPENG, and BYD will not be willing to take a step backward.
Can the Porsche CEO fix it? It's hard to say. His qualities lie not in the digital realm but in eFuels, for example. They will hardly be able to move the needle in Europe – simply because of the "market" – and will fail due to local energy costs and energy shortages. And they won't even play a role in China for the time being. That's surprising, especially since Blume earned his doctorate at the renowned Tongji University in Shanghai in 2001.
So was Diess' departure good or bad?
For him, it is not exactly what you'd call tough. All he has to do is get up, straighten his tie, and earn another €30 million with a golden handshake in the form of a consulting contract until 2025.
VW has done itself a disservice with Diess' dismissal. In China, Korea and at Stellantis, the champagne corks must have been popping last week, because the transformation problems just got bigger for VW.
About this column:
In a weekly column written alternately by Eveline van Zeeland, Eugene Franken, Katleen Gabriels, PG Kroeger, Carina Weijma, Bernd Maier-Leppla, Willemijn Brouwer and Colinda de Beer, Innovation Origins tries to figure out what the future will look like. These columnists, sometimes joined by guest bloggers, are all working in their own way to find solutions to the problems of our time. You can find previous installments here.